Cannondale-Drapac rider is currently live tweeting from the Milan-San Remo breakaway
Toms Skujins (and definitely not his girlfriend or one of the Cannondale-Drapac staff members) providing lots on in-race insight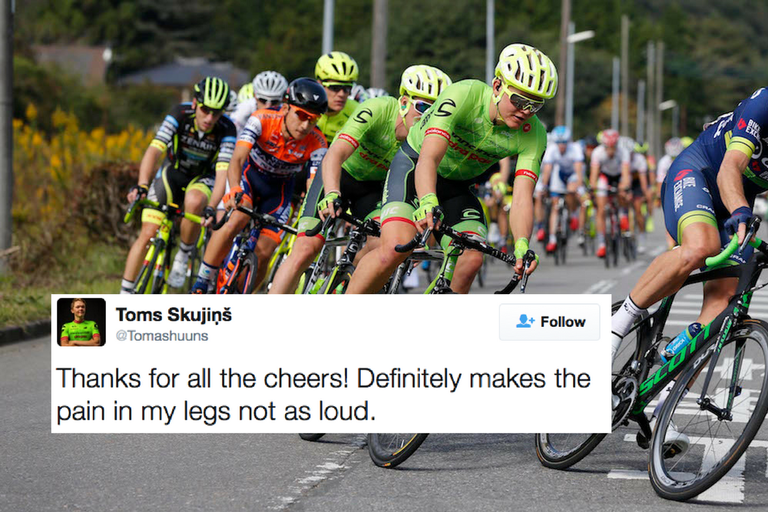 You would have though that trying to ride in the break at Milan-San Remo would be hard enough, but one of the two Cannondale-Drapac riders in the move is also managing to tweet at the same time.
At the time of writing with a lead of around two minutes and riding at 40kmh along the Ligurian coast, Toms Skujins is giving minute-by-minute updates of his time at the front of the race.
Now officially riders aren't allowed to use their mobile phones in races (just ask Luca Paolini who found himself in a bit of hot water at the 2014 Tour de France after being snapped texting mid-race) but Skujins somehow seems to be getting away with it so far.
But one slightly unwise move by the Latvian rider is broadcasting his race tactics out on social media, like in the tweet below. Perhaps we can expect an attack soon.
This isn't the first time that a rider has live tweeted from a race. Back at the 2016 Olympics Namibian rider Dan Craven pulled a similar stunt, providing similar insight from the midst of the peloton.
But on that occasion it turned out that Craven's Twitter account was being run by his partner watching the race from the sidelines.
However on this occasion we're absolutely sure that Skujins really is tweeting from the middle of Milan-San Remo, and it definitely isn't one of the Cannondale-Drapac staff members on the team bus or in a team car. No, definitely not. It's 100 per cent Skujins.