Conor Dunne wins CiCLE Classic 2016 (gallery)
Conor Dunne takes big win in 2016 CiCLE Classic for JLT-Condor - Photos by Andy Jones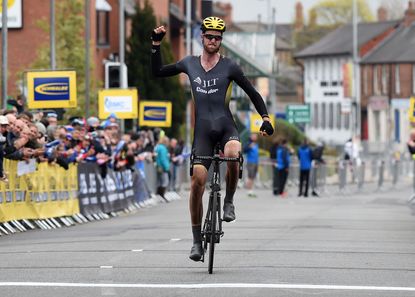 (Image credit: Andy Jones)
Conor Dunne (JLT Condor) won the 2016 edition of the Rutland-Melton CiCLE Classic on Sunday in Leicestershire.
Dunne put in a late attack to finish ahead of Gruffudd Lewis (Madison-Genesis), with Christopher Lawless (JLT Condor) leading home the bunch for third place.
The race had been stopped for 20 minutes due to a serious accident, with two riders reportedly air-lifted to hospital. Both were later released.
Once resumed, Dunne rode off the front and carved out a 35 second time gap to the rest of the peloton, but he rejoined the bunch, allowing Rory Townsend (Pedal Heaven) to launch his own attack that stretched to a maximum of 1:40.
Townsend was caught on the first descent of the Somerberg as the riders passed through Melton Mowbray with 15km left, Tom Stewart (Madison-Genesis) won a huge pork pie for doing so.
He, Peter Williams (One Pro Cycling), Ryan Perry (Kuota-Metaltek) and Russ Dwwning (JLT-Condor) had a lead of 18 seconds but they were caught by the bunch with 10km remaining.
10 riders then went clear and from that bunch, it was Dunne who launched his solo winning move in the final kilometres.
"I'm really happy. I really wasn't expecting to win," the Irish international said afterwards. "I don't really win bike races so it's good to win one!"
The race is billed as Britain's version of a northern European classic, with sections of rough farm tracks interspersed between the tarmac.
Result
Rutland-Melton CiCLE Classic 2016
1. Conor Dunne (JLT Condor) in 4-48-30
2. Gruffudd Lewis (Madison-Genesis) at 14 secs
3. Christopher Lawless (JLT Condor) at 24 secs
4. Jake Kelly (Team Wiggins)
5. Dion Beukeboom (Park Hotel)
6. Nicolas Vereecken (An Post-Chain Reaction)
7. Alexander Blain (Madison-Genesis)
8. Hayden McCormick (One Pro Cycling)
9. Dan Fleeman (Kuota-Metaltek)
10. Ian Bibby (NFTO) at same time
Thank you for reading 20 articles this month* Join now for unlimited access
Enjoy your first month for just £1 / $1 / €1
*Read 5 free articles per month without a subscription
Join now for unlimited access
Try first month for just £1 / $1 / €1