Flèche du Sud stage cancelled after serious incident
Stage three of the Flèche du Sud in Luxembourg has been cancelled after a crash involving numerous riders on a descent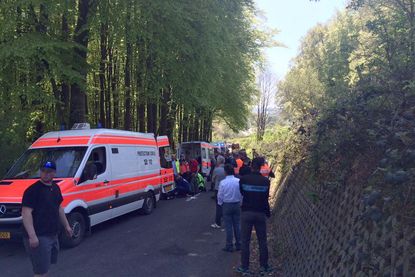 (Image credit: Team RaceClean)
A crash involving numerous riders taking part in the Flèche du Sud race in Luxembourg has led to the cancellation of stage three from Rédange-sur-Attert to Warken on Friday.
According to reports that emerged on Twitter, the race was neutralised after 30 minutes due to a crash on a descent.
Canadian squad Team Race Clean reported that police had stopped the race, and that numerous ambulances and a medical helicopter were in attendance at the scene of the incident.
Luxemburger Wort reported that some riders had collided with a wall, and that several riders were in a 'serious condition', with one in a coma.
Some estimate that as many as 40 riders were involved.
The UCI 2.2-ranked Flèche du Sud takes place over five days from May 4-8. Dutch rider Twan van den Brand (Cyclingteam Jo Piels) was leading the race after stage two.
A decision is due to be made on whether stage four of the race will take place on Saturday.

Thank you for reading 5 articles this month* Join now for unlimited access
Enjoy your first month for just £1 / $1 / €1
*Read 5 free articles per month without a subscription
Join now for unlimited access
Try first month for just £1 / $1 / €1