Geraint Thomas may get a place in Olympic time trial due to rider withdrawals
Great Britain may have a chance to field two riders in Wednesday's men's individual time trial after withdrawal of Richie Porte, Vincenzo Nibali and others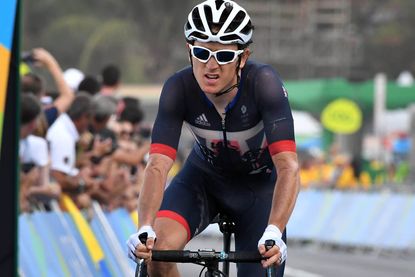 (Image credit: Watson)
Great Britain could be handed an extra place in the Rio 2016 Olympic Games men's individual time trial on Wednesday, with Geraint Thomas joining Chris Froome in the race.
Italian Vincenzo Nibali and Australian Richie Porte were among those riders forced to withdraw their names from the start list of Wednesday's race after crashing out of Saturday's road race.
>>> Vincenzo Nibali heads back to Italy for surgery after Olympic road race collarbone break
Nibali sustained a double fracture of his collarbone after crashing on the final descent of the road race, and Porte fractured his shoulder blade in a separate crash. Thomas also crashed on the final descent, and was put out of contention for the medals – but did not suffer any major injury.
Places in the time trial are allocated based on a qualification system for each National Olympic Committee (NOC). Originally Great Britain was allocated five places in the road race and one in the time trial. If Italy, Australia or any other nation elect not to take up their vacant places, they may be re-allocated to the next-ranked NOC.
"We should have had two [spaces] but we messed up the qualification," said Thomas. "Due to all the crashes yesterday there are teams who can't fill their spots.
"Hopefully, those spots might be offered to the next nations down [in the ranking] but you never know what they're going to do."
Thomas has his time trial bike and kit already in Rio as he was a back-up should Froome not be able to ride.
A decision on whether Great Britain will get an extra place is expected to be made later on Sunday.
"I think Froome will have a pretty good chance, the TT suits him better than the RR," Thomas said. "He's in good shape as well. Yesterday didn't go as he wanted but one day racing isn't his strongest point anyway, but I think in the TT he's got a great chance of winning. Why not."
The men's time trial covers 54.56km over a hilly route that features the Grumari Circuit used in the road races.
Thank you for reading 20 articles this month* Join now for unlimited access
Enjoy your first month for just £1 / $1 / €1
*Read 5 free articles per month without a subscription
Join now for unlimited access
Try first month for just £1 / $1 / €1