Alberto Contador dismisses idea of disqualification from Giro d'Italia
Race leader laughs off suggestions that he could be punished for removing his helmet to put on a cap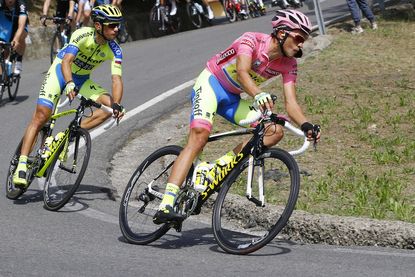 (Image credit: Watson)
One day after Sky's Richie Porte received a two-minute penalty for receiving help from a rival rider in the Giro d'Italia, Alberto Contador (Tinkoff-Saxo) laughed off the idea that he could be disqualified for riding without a helmet today near Imola.
Television images showed the race leader without his helmet momentarily as he put on a cap on during the 11th stage from Forlì to Imola, which was hit with a series of rain showers.
A UCI rule reads that a rider may be disqualified from a race for riding without his helmet. The UCI jury president at the Giro d'Italia would not comment on the incident when asked by Cycling Weekly.
"It's something that you do — you take the cap off, and you put it back," Contador said.
"What I did was take off my helmet, took off my cap and put my helmet back on. You can examine everything, but this is something that's done all the time."
Contador was reminded that the jury followed the letter of the law in Porte's case, and it could also do so with him if it wanted to. "But the helmet was with me all the time," the Spaniard said. "It's not a problem."
Rule 12.1.040 / 3.3 states that any rider taking off their helmet during the race may be disqualified and fined 100 Swiss Francs (£69).
The jury told Cycling Weekly, "We don't discuss the rules. If you'd like to speak about the rules, call the UCI."
Tinkoff-Saxo's sports director, Steven De Jongh, stood next to the Autodromo Ferrari where stage finished. He shook his head when asked about any possible disqualification.
"Rules are rules, yes, but it's how you implement the rules some days," De Jongh said.
"With rainy weather, you see a lot of guys taking off their helmet and putting on a cap or removing a cap when it's getting dry. I don't expect we'll get punished for that, otherwise they'll have a very busy day with all the riders who took their helmet off and put a cap on.
"Sometimes you have a big bunch coming in out of time limits, and they change the time limits. Sometimes there's one guy coming in and they stick to the time limits."
Tomorrow's stage is predominantly flat over the first 150km, with steep gradients over three climbs in the latter sections.
Thank you for reading 20 articles this month* Join now for unlimited access
Enjoy your first month for just £1 / $1 / €1
*Read 5 free articles per month without a subscription
Join now for unlimited access
Try first month for just £1 / $1 / €1