Bardiani-CSF risk MPCC exclusion after breaking cortisol rules at Giro d'Italia
The Italian team went against the regulations of the voluntary organisation after allowing a rider with low cortisol levels to compete at the Giro d'Italia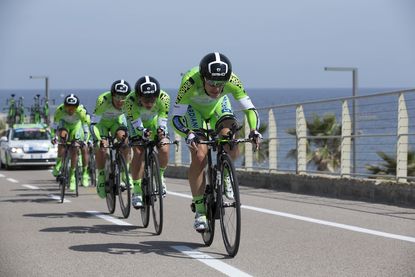 (Image credit: Yuzuru SUNADA)
Bardiani-CSF could see their membership of the Movement for Credible Cycling (MPCC) terminated, after they allowed a rider with abnormally low levels of cortisol to continue to race at the Giro d'Italia, against the rules of the MPCC.
As reported by L'Equipe on Wednesday, the name of the rider has not been revealed and the Italian team, who took a stage win on Tuesday through Nicola Boem, maintain their innocence.
But the voluntary organisation was quick to release a statement on the issue, saying it had asked the team to pull the rider from the race the Friday before the race.
"The MPCC expressly points out that on Friday, May 8, the movement was informed by team Bardiani-CSF that one of its riders showed an abnormally low cortisol level," it read.
"As of this Friday prior to the start of the Giro d'Italia, MPCC has formally requested to the team Bardiani-CSF - through its president - not to enter this rider into the race and to prescribe eight days off-race as from the date the sample was taken by the UCI, in accordance with article 9 of MPCC regulations and its annex.
"MPCC considered that the explanations provided by the team Bardiani-CSF were not sufficient to keep the rider in the race and immediately invited the team manager to attend the board of directors scheduled on June 8th in Lyon, in order to provide further explanation and allow the board to review this case."
>>> Richie Porte given two-minute penalty and fine for accepting help at the Giro d'Italia
Bardiani-CSF senior director, Roberto Reverberi dismissed the MPCC's view, telling TuttoBici that the rider in question was tested with normal levels of cortisol on the day of the Giro's opening team time trial.
"For the MPCC, that based its decision on the controls only done on the Thursday before the start, he should have rested for eight days before returning to competition," Reverberi said.
"But on Saturday of the team time trial we did a new control and all the values were okay. We immediately informed the MPCC and we're ready to supply further clarification at the meeting in June."
Fellow MPCC member team LottoNL-Jumbo were forced to drop George Bennett from their Giro squad on the eve of the race, after the New Zealander was found to have an abnormally low level of cortisol.
The UCI still allows teams to field riders with low cortisol levels, which is a potential indicator of cortisone use, but MPCC members must suspend their rider for a minimum of eight days.
Bardiani will now have to wait on an official decision by the MPCC over the incident at the Giro.
Thank you for reading 20 articles this month* Join now for unlimited access
Enjoy your first month for just £1 / $1 / €1
*Read 5 free articles per month without a subscription
Join now for unlimited access
Try first month for just £1 / $1 / €1