Downing keeps dream of Grand Tour stage win alive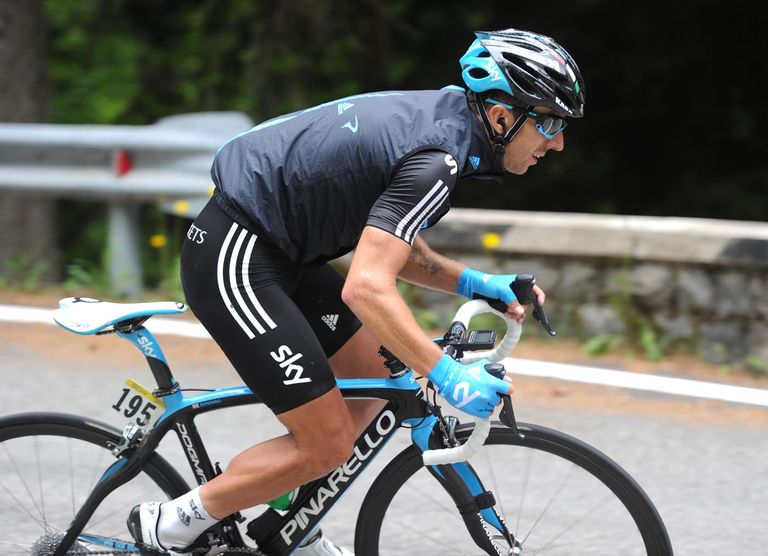 Sky's Russell Downing raced for his dream, a win, today in the Giro d'Italia's leg to San Pellegrino Terme near Bergamo. He failed, but it's his first Grand Tour and he wants to have another go.
"Yeah, definitely," Downing told Cycling Weekly. "Even here at the Giro, I didn't just come here to make the numbers, I came here to have a pop at a stage."
His pop came via a 20-man escape formed in the heart of Bergamo northern Italy. He rode at the front on the cobbled climb into the upper city and jumped clear with local rider Marco Pinotti (HTC-Highroad).
"It went over the top," he added. "I was able to go with it."
The group drilled it towards the Passo di Ganda climb and whittled down to six, including Downing. Downing, though, lost ground to the better climbers on the Ganda. Instead of forcing himself, he rode at his own pace and joined the remnants of the escape group.
Italian Eros Capecchi (Liquigas) won ahead of Pinotti. Downing, arrived into the town famous for its sparkling water in a group of 10 and won the sprint for eighth. Though it's his first Grand Tour, he's not surprised by his potential to win a Grand Tour stage - he's 32 years old and knows his abilities.
"I know how hard I can punish myself when I ride," he said. "I ride better when I am tired really. I had a bad day yesterday and today, I knew, it could only get better - and it did.
"I was really looking forward to it [today], I wanted to just pick a day."
Sky will likely leave Downing out of its nine-man Tour de France team. Downing may participate in the Vuelta a España, but believes its more likely he'll have his second chance for a Grand Tour stage win next year.
"It took me ten years to get here now, and I am not going to quit now," he continued. "The Vuelta? I don't know about that, two in on year, that's kind of crazy, but we'll see."
Giro d'Italia 2011: Latest news
Deignan still learning in sixth Grand Tour
Giro changes again as final Milan time trial shortened
What riding the Giro has done for Peter Kennaugh
Millar's time trial practice run
Nibali gives up hope for Giro d'Italia win
Contador ignores Armstrong doping investigation
Giro d'Italia News Shorts (May 24)
Controversial Crostis climb removed from Giro route
Sky leader Lofkvist loses more time at the Giro
Giro contenders struggle with Contador's dominance
Contador widens Giro advantage but Tour doping case waits
Porte reflects, one year after Giro success
Le Mevel goes on attack for Giro's pink jersey
Giro fines Contador for missing press conference
Cavendish responds to 'team car' accusations at Giro
Giro d'Italia News Shorts (May 15)
Giro's Sicilian cyclists proud to face Mount Etna
Contador surprises at Giro with attack ahead of mountains
Contador minds food at Giro as CAS decision nears
Weening supported by Rabobank and model Kroes
Local lad Appollonio bears fruit in Fiuggi
Giro d'Italia News Shorts (May 12 edition)
Blythe finding way in second Grand Tour
Leopard-Trek withdraws from Giro d'Italia
Leopard-Trek uncertain to continue in Giro
Tuesday's Giro stage in memory of Weylandt
Giro doctor describes actions to save Weylandt
Wouter Weylandt killed in Giro crash
Giro news shorts (May 8)
Cavendish likely to take Giro lead tomorrow
Giro 2011: Who will win?
Giro d'Italia 2011: Stage reports
Stage 18: Capecchi takes Giro stage win as contenders take day off
Stage 17: Ulissi prevails in controversial Giro sprint
Stage 16: Contador lords it over the rest in Giro TT
Stage 15: Nieve wins mountain marathon as Contador continues at the top
Stage 14: Anton conquers Zoncolan in shortened stage
Stage 13: Contador consolidates Giro overall as Rujano takes stage
Stage 12: Cavendish holds off Appollonio to take second victory
Stage 11: Gadret grabs dramatic stage win
Stage 10: Cavendish opens his Giro account
Stage nine: Contador storms Etna to take Giro lead
Stage eight: Gatto springs late attack to take win
Stage seven: Neo-pro De Clercq wins by a whisker
Stage six: Ventoso steals Giro stage six win
Stage five: Weening holds on to take stage and maglia rosa
Stage four: Tearful Farrar and Leopard-Trek lead riders across stage four finish line
Stage three: Vicioso victory overshadowed by Weylandt crash
Stage two: Petacchi wins as Cavendish takes lead
Stage one: HTC-Highroad wins Giro's opening team time trial
Giro d'Italia 2011: Photo galleries
Stage 17 photo gallery by Graham Watson
Stage 16 photo gallery by Graham Watson
Stage 15 photo gallery by Graham Watson
Stage 14 photo gallery by Graham Watson
Stage 13 photo gallery by Graham Watson
Stage 12 photo gallery by Graham Watson
Stage 11 photo gallery by Graham Watson
Stage 10 photo gallery by Graham Watson
Stage nine photo gallery by Graham Watson
Stage eight photo gallery by Graham Watson
Stage seven photo gallery by Graham Watson
Stage six photo gallery by Graham Watson
Stage five photo gallery by Graham Watson
Stage four photo gallery by Graham Watson
Stage three photo gallery by Graham Watson
Stage two photo gallery by Graham Watson
Stage one photo gallery by Graham Watson
Giro d'Italia 2011: Live text coverage
Giro d'Italia stage 16 live text updates
Giro d'Italia 2011 stage 13 live text updates
Giro d'Italia 2011 stage 11 live text updates
Giro d'Italia 2011 stage seven live text updates
Giro d'Italia 2011 stage five live text updates
Follow the 2011 Giro d'Italia live with Cycling Weekly
Giro d'Italia 2011: Start list
Giro d'Italia 2011: Start list
Giro d'Italia 2011: TV schedule
Giro d'Italia 2011: British Eurosport TV schedule
Related links
Giro d'Italia 2010: Cycling Weekly's coverage index