Epic days: the Passo di Gavia, Giro d'Italia 1988
We remember the Gavia stage of the 1988 Giro, when rain turned to snow and even the big men suffered like never before...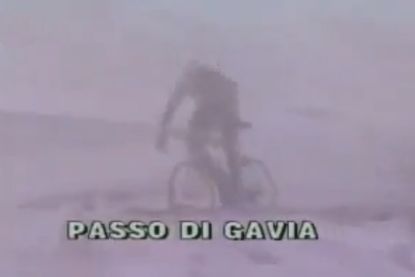 The day after Andy Hampsten took the maglia rosa over the Passo di Gavia in the 1988 Giro, La Gazzetta dello Sport dubbed the stage 'The Day the Big Men Cried'. Such dramatic headlines are perhaps to be expected in the Italian press, but in fairness it barely does justice to the extremities the riders faced as they raced from Chiesa to Bormio.
As the GC contenders neared the climb of the Gavia, the rain, which had been persistent and heavy since the start of the stage, turned to snow, which in turn quickly became a blizzard.
>>> Ten times bad weather made bike races even more epic
In his account of that day, Hampsten recalls the riders' realisation that this was likely to be one of the most torturous ascents ever: "I began to accept that it was going to be bad and that it was going to be bad for everyone else."
Hampsten — who went on to win the race overall — goes on to explain that his ability to keep warm, helping him succeed that day, was partly down to good fortune.
"I was wearing the 'performance' jersey, which is the rider with the best combined point totals in sprints, climbing and overall classification, made of pretty thick wool, which was nice!" he says.
"My biggest asset was that I kept my neoprene gloves. I realised that I had to keep my hands warm or I couldn't function. I remember telling Bob Roll that this would probably be the hardest day on the bike in our lives."
In his book Bobke II, Roll — Hampsten's 7 Eleven team-mate that day — recounts the descent into Bormio: "After only one kilometre, I was bloody cold. After two kilometres, I was frozen to the core. After only three kilometres, I was laughing like a lunatic and passed Rolf Sorensen, screaming at the top of my lungs in an attempt to generate some warmth.
"After five kilometres, I was crying and about to slip into a frozen coma."
Words by Micky McMahon
This article first appeared in the April 30 edition of Cycling Weekly
Thank you for reading 20 articles this month* Join now for unlimited access
Enjoy your first month for just £1 / $1 / €1
*Read 5 free articles per month without a subscription
Join now for unlimited access
Try first month for just £1 / $1 / €1