Five things to do now the Giro d'Italia has ended
Our essential guide to deal with that post-Giro comedown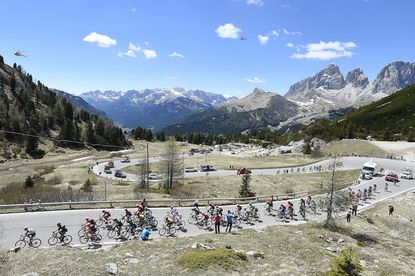 (Image credit: LaPresse,Alberto / Ferrari / Paolone / Spada)
Relive the best bits
This year's Giro d'Italia will go down as one of the best Grand Tours in years, with any on of four riders still having a shot at glory going into the final time trial.
>>> Every Grand Tour win of the last 10 years
Surely the best thing to do is to go into denial that the Giro has ended at all, and trawl the TV listings and internet for clips from the race and replays of stages (OK, maybe give some of those dull early sprint stages a miss) creating a never-ending Giro just for yourself.
Watch other bike racing
Unfortunately we now have to endure the awful prospect of a few days without bike racing, but come Friday and it all kicks off again with the first ever Hammer Series, a three-day team event ending in a mass team time trial pursuit that will be streamed live on social media.
>>> Critérium du Dauphiné 2017 route
However if you're a bit more of a traditionalist then the Critérium du Dauphiné is also just round the corner, a chance to see a number of the major Tour de France contenders go head-to-head in the week-long race in the Alps.
Get ready for the Tour de France
Talking of the Tour, the Grand Départ in Dusseldorf is now just a month away, which is more than close enough to start to get excited about the biggest three weeks in the cycling calendar.
>>> Tour de France route 2017: stages and key climbs
Deck your bike with yellow bar tape, get your copy of Tour Magazine, book most of July off work, and begin to wonder if there is anyone who will be able to stop Chris Froome picking up his fourth Tour de France title.
Ride your bike
You had a great winter of training, but then the spring Classics came along and you let it slip a little. But by the middle of April you back going full gas, never missing a session, making every minute count.
>>> Giro d'Italia winner Tom Dumoulin returns to racing at Tour de Suisse along with Peter Sagan and Greg Van Avermaet
However then the Giro came along, and you steadily forgot about your bike, unwisely shunning it in favour of watching tedious sprint stages out of some sort of moral duty, then being genuinely hooked by the dramatic final week in the mountains.
Now you really need to get the hours in and make up for lost time. After all, you need to make sure you're ahead of the game before the Tour comes around and disrupts everything again in July.
Do some housework
In between going to work, watching the Giro, and reading about the Giro on Cycling Weekly, it's likely that your floor has gone unhoovered, the ironing is piling up, and the garden is overgrown.
It's also likely that, if your other half isn't into cycling quite as much as you, that patience may be wearing a little thin, so now's the time to earn some brownie points before you let it all go to pieces again come July.
Thank you for reading 20 articles this month* Join now for unlimited access
Enjoy your first month for just £1 / $1 / €1
*Read 5 free articles per month without a subscription
Join now for unlimited access
Try first month for just £1 / $1 / €1