Giro d'Italia skips Gavia and Stelvio due to snow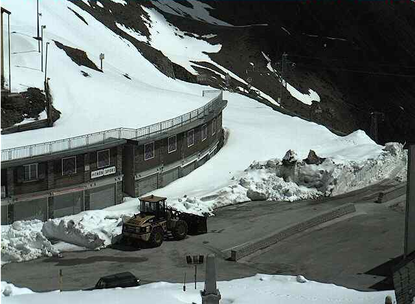 The Giro d'Italia must re-route and skip the legendary Gavia and Stelvio passes tomorrow due to snow, organiser RCS Sport announced this evening.
"It's official. It's a shame, but it's official," Giro director, Michele Acquarone told Cycling Weekly. "It'll be less beautiful, but what can we do? Just one hour ago it started snowing again on the Passo dello Stelvio."
The 19th leg was due to travel from Ponte di Legno, over Gavia, over Stelvio and down to the valley to confront Val Martello. However, bad weather wrecked this year's edition. Snow and freezing temperatures on the passes, at 2,618 and 2,758 metres, respectively, forced a change.
The race will head east from Ponte di Legno, through Val di Sole and Valle di Silandro to enter Val Martello from the east. It keeps the riders at lower altitude, only needing to climb the Passo Castrin at 1,706 metres.
Val Martello will feature as planned, climbing 22.35 kilometres to 2059 metres.
Saturday's mountain stage to Tre Cime del Lavaredo is also in doubt.
"We also have a plan B for Tre Cime del Lavaredo," Acquarone added. "It won't be great, but we have to do something."
The Tre Cime stage presents Acquarone and his RCS Sport crew more difficulties. They want to start in Silandro and end up Tre Cime as planned, but getting there is nearly impossible. The ideal solution would be to finish at Passo Tre Croci 500 metres lower than Tre Cime at 2,304, but if it is snowing then it will also be impossible to cover Passo Giau.
"We have to go around Giau and figure out how many kilometres it would be," technical director, Mauro Vegni told Cycling Weekly two days ago. "The problem in that area is that all the other passes are high and we'll face snow on them, as well."
The Corsa Rosa also detoured from its planned course last Sunday. Despite a good weather patch that allowed it to pass Mont Cenis, it was only able to climb to Les Granges at 300 metres lower and four kilometres less than the Col du Galibier at 2,642 metres.
Thank you for reading 20 articles this month* Join now for unlimited access
Enjoy your first month for just £1 / $1 / €1
*Read 5 free articles per month without a subscription
Join now for unlimited access
Try first month for just £1 / $1 / €1