Rodriguez reflects on Giro d'Italia near miss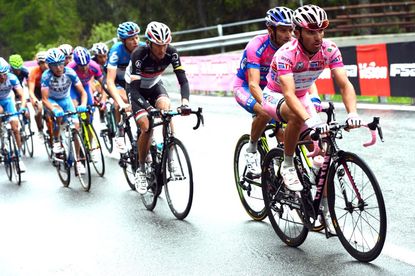 Joaquin Rodriguez (Katusha) believed until the last moment, until the last kilometre in Milan yesterday that he had a chance to win the Giro d'Italia.
"To tell the truth, Valerio [Piva, team DS] was telling me it was my moment in the time trial. I risked it all. I pushed it, in every corner," Rodriguez said in a post-race press conference.
"I thought, maybe he was doing the same. Up until the last kilometre, I believed. We were talking seconds. I had a chance to win this race up until the last moment."
The Spaniard placed second overall, his best finish in a Grand Tour since he placed fourth in the Vuelta a España in 2010 and in the Giro d'Italia last year. In 2010, he also placed ninth in the Tour de France.
Rodriguez first took the pink jersey in Assisi midway in the race. He darted ahead on the steep slopes into the ancient city centre, seizing the stage win and a crucial 20-second time bonus.
Ahead of this race, the organiser decided not to award bonuses on the five crucial mountain stages in the Alps. In the Giureconsulti courtroom near the Piazza Duomo, Rodriguez looked over the classification sheet where he placed second by 16 seconds. Had he taken bonus seconds here and there, including the stage win in Cortina d'Ampezzo, he might have won.
"The bonuses are what they are. It's better not too think about it now, not to look back and second guess. We lost, you can't change that," Rodriguez explained.
"To think of some error now or where I might have made a mistake is useless. OK, maybe in the first week I could've tried to drop Ryder, maybe Ivan Basso would've used that to his advantage and won. The race took its shape. It went how it went and Ryder won. Maybe if something would've changed, I could've won, but also Thomas De Gendt could've won!"
De Gendt was the first Belgian to finish on a Grand Tour podium since 1995. You have to go back further, to 1978 with Johan De Muynck to find the last Giro winner.
"I don't think anyone here was thinking about him yesterday!" Hesjedal said, referring to De Gendt's ride up the Stelvio Pass. "I was scared of him when he was taking off in the valley. He forced this race, it put me in a hard situation. All the rivals knew it was my race to lose. They put the work on me and made me pull the time back. He added more stress to the situation."
Rodriguez also pushed Hesjedal. After 28.2 kilometres around Milan's centre, he finished only 47 seconds back. However, that was enough to lose him the Giro by 17 seconds.
"I have to keep trying," Rodriguez added. "I'll be back next year."
Giro d'Italia 2012: Latest news
Hesjedal celebrates hard-fought Giro win
Cavendish misses out on Giro red jersey by one point
Giro welcomes prospect of Canadian winner
Sky birthday boys put party on hold
Phinney aiming for Giro final time trial win
Hesjedal edges closer to being first Canadian Giro winner
Eisel rues missed sprint chances at Giro
Still an 'opportunity' for Uran to win Giro
Guardini speechless after win against Cavendish
Kennaugh withdraws from Giro, next stop Olympics
Giro's Stelvio stage may be shortened due to weather
Izagirre wins on Grand Tour debut
Cavendish silences Cipollini
Sky tightens grip on white jersey
Rodriguez versus Hesjedal in Giro title fight
Cavendish's Sky lead-out still on learning curve
Orica-GreenEdge to strengthen sprint train in Tour de France
Schleck struggles on with dislocated shoulder
Rodriguez up against more experienced rivals in Giro
Bak from worker to winner at the Giro
Giro d'Italia 2012: Live coverage
Giro d'Italia 2012 live text coverage and schedule
Giro d'Italai 2012 stage 13 live text coverage
Giro d'Italia 2012 stage 12 live text coverage
Giro d'Italia 2012 stage 10 live text coverage
Giro d'Italia 2012 stage six live text coverage
Giro d'Italia 2012 stage four live text coverage
Giro d'Italia 2012: Stage reports
Stage 21: Hesjedal wins 2012 Giro d'Italia overall as Pinotti wins final time trial
Stage 20: De Gendt conquers Stelvio to win stage
Stage 19: Kreuziger bounces back with Giro stage win
Stage 18: Guardini beats Cavendish in final Giro sprint
Stage 17: Rodriguez wins stage to consolidate lead
Stage 16: Izagirre claims Basque breakaway victory
Stage 15: Rabottini takes tough win in Giro
Stage 14: Amador wins Giro's first high mountain stage as Hesjedal reclaims lead
Stage 13: Cavendish makes it three
Stage 12: Bak attacks to win
Stage 11: Ferrari wins Giro stage on ride to redemption
Stage 10: Rodriguez wins thrilling finale to take leadStage nine: Ventoso wins in Frosinone as Goss and Cavendish fall
Stage eight: Pozzovivo takes another Giro win
Stage seven: Hesjedal moves into Giro lead
Stage six: Rubiano solos to epic Giro stage win
Stage five: Cavendish bounces back for another stage win
Stage four: Garmin-Barracuda win TTT to take lead
Stage three: Goss wins in Horsens as Cavendish and Phinney crash
Stage two: Cavendish wins in Herning
Stage one: Phinney wins time trial
Giro d'Italia 2012: Photo galleries
Stage 21 photo gallery
Stage 20 photo gallery
Stage 19 photo gallery
Stage 18 photo gallery
Stage 17 photo gallery
Stage 16 photo gallery
Stage 15 photo gallery
Stage 14 photo gallery
Stage 13 photo gallery
Stage 12 photo gallery
Stage 11 photo gallery
Stage 10 photo gallery
Stage nine photo gallery
Stage eight photo gallery
Stage seven photo gallery
Stage six photo gallery
Stage five photo gallery
Stage four photo gallery
Stage three photo gallery
Stage two photo gallery
Stage one photo gallery
Giro d'Italia 2012: Blogs
Charly Wegelius' Giro blog: Conserving energy for the final week
Charly Wegelius' Giro blog: Holding on to the lead
Charly Wegelius' Giro blog: Getting the team time trial right
Giro moto blog: Hurray for rest day
Giro moto blog: Stage 10
Giro d'Italia 2012: Teams and riders
Giro d'Italia 2012 start list
Giro d'Italia 2012: TV guide
Giro d'Italia 2012: British Eurosport TV schedule
Related links
Giro d'Italia 2012: The Big Preview
Cycling Weekly's Giro d'Italia section
Thank you for reading 5 articles this month* Join now for unlimited access
Enjoy your first month for just £1 / $1 / €1
*Read 5 free articles per month without a subscription
Join now for unlimited access
Try first month for just £1 / $1 / €1