Turbo Durbo nears finish of maiden Grand Tour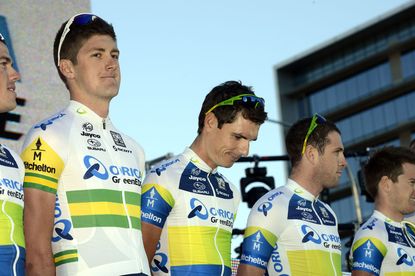 Australian national road and time trial champion Luke Durbridge is one a handful of Grand Tour debutants poised to finish the Giro d'Italia on Sunday.
The Giro is one of the hardest races on the calendar and poor weather conditions, which led to the cancellation of today's 19th stage, have made it even more so this season.
Race organiser RCS Sport had already altered today's high mountain stage, but called it off entirely this morning with snow predicted along the entire route.
"We were pretty relieved to say the least when they said they were canceling it," Durbridge told Cycling Weekly during a three-hour transfer, adding he was angered by news of Danilo Di Luca's positive out-of-competition drug test.
"We were staying at 700m. We looked 200m up the mountain and there was just snow all over the trees, and that's only 900m! We were to race to 1800m on the first climb ... so it was like what is it going to be like another 1000m higher?"
Generally speaking young professionals will race an average of two weeks at their first Grand Tour, essentially for experience, before withdrawing. But that's not so for the 22-year-old and a select group of others including British time trial gold medalist Alex Dowsett (Movistar).
"It's been an adventure. That's sort of what I've treated it like," Durbridge said.
"I think as soon as you start to become negative then it's all over. So much of your legs are powered by ... how mentally happy you are.
"When I got the race book at the start I dropped it on my bed and almost broke my bed - that's how big it is! I was like, 'Oh, man. How am I ever going to get through this?' Everyone said don't look at it. Just look at one stage and that's it.
"I've pretty much only opened up the day that it is," he continued. "I've never looked ahead. In a few years time I can start to look ahead to pick stages but in my first one, because it's such a big, daunting task, I took it day by day, and now I'm here."
Durbridge, who is a second-year professional at Orica-GreenEdge, entered the Giro with two objectives in the stage eight 54.8km time trial, which Dowsett won, and making it to Brescia.
He recorded a respectable sixth place in the time trial - 35 seconds adrift of the winner - and notably was part of the main break that escaped some 6km into Wednesday's 214km run to Vicenza.
"After the time trial I went into survival mode. I sat up with the grupetto and every time I could save energy I saved energy and didn't necessarily do as much work on the front as the team," Durbridge said.
"When I got in the break two days ago [sports director] Julian [Dean] said, 'You've actually been coping really well, let's have a go today.' It's easier said than done. Rather than ride survival mode you've got to go back into race win mode. It's a pretty big change.
"Sprinters are pretty impressive in how they do that. For a flat day they just go, 'Right, it's race day,' and then the next it's still hard but they switch off into survival mode.
"It's a skill you have to learn to develop in these tours because, unless you're a GC guy, you can't go good every day."
Durbridge will have accrued some 60-race days after the Giro. He plans to return to competition at the Tour of Poland (July 27 to August 3) and has overall ambitions at the Eneco Tour (August 12-18). The former under-23 time trial world champion is hopeful the experience and physical strength he has gained from the Giro will pay dividends in the second half of the season.
There's a chance weather could again affect tomorrow's penultimate stage in the mountains but Durbridge is optimistic the race will be back on.
"I'm sure tomorrow there will be something, maybe they'll race along the bottom of the valley," he said.
"It's fine if we race along the valley and then we finish up the top of one climb. It's just the dangerous descending. As soon as you get over the top you're minus a couple of degrees and then you start descending in the wet, it becomes really dangerous with all the snow falling away on the corners."
Related links
Luke Durbridge on Saltara Giro time trial
Luke Durbridge does the double in Australian champs
Thank you for reading 20 articles this month* Join now for unlimited access
Enjoy your first month for just £1 / $1 / €1
*Read 5 free articles per month without a subscription
Join now for unlimited access
Try first month for just £1 / $1 / €1