Wiggins out of Giro classification, enjoying 'unique' race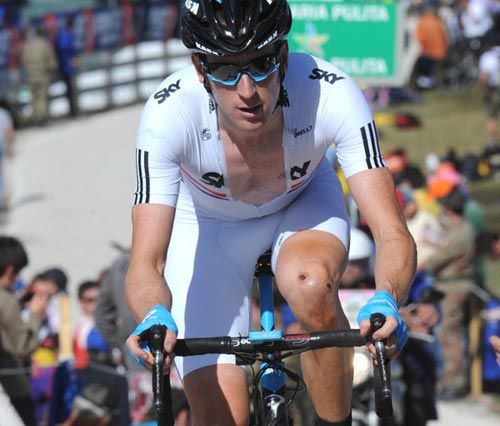 Wiggins hopes that the experience of finishing fourth in last year's Tour de France and racing this year's Giro d'Italia will help him to "take" the Tour de France in July.
Sky's Bradley Wiggins is enjoying the final week of the Giro d'Italia now that he is out of the classification fight.  
"Today it was something different with the dirt track, you had to think a little bit more.   It is quite unique the Giro d'Italia, no other race in the world goes up climbs like Monte Zoncolan or here.   It is pretty special in that sense."
Sunday to Monte Zoncolan, he erased any hope of winning the overall when he sat up and finished 25 minutes back on the main contenders.
"I am not really at my best yet to be competitive with the likes of Ivan Basso.   The idea with this race was to get into shape for the Tour de France," continued Wiggins.    
"I was never sure about this last week on paper and it was a bit beyond me to try to go for the GC.   I had to make a call and I took myself out of it the other day because these stages would have been a bit too far for me: Zoncolan, today's time trial and what is to come this week.    The climbing and gradients here in the Dolomites are completely different to the Tour de France."
Wiggins said that with the freedom of not racing for the classification, he might try to enter into some escapes.   He also has a chance to win the final day's time trial in Verona, the day the Giro d'Italia classification will be decided.
"The crowds have been amazing," he told Cycling Weekly after his time trial up Plan de Corones. 
Wiggins finished fourth in last year's Tour de France and came to the Giro d'Italia as an outside favourite.   He spent a day in the leader's jersey after winning the opening day's time trial, but crashes and stronger rivals eventually ruled him out of the running.  
"Based on what I have seen now, I can't see Basso losing [the classification].  With a week to come, Basso has that experience that will allow him to take it."
Related links
Giro d'Italia 2010: Cycling Weekly's coverage index
2010 Giro d'Italia coverage in association with Zipvit