Zomegnan defends Giro d'Italia, but realises changes needed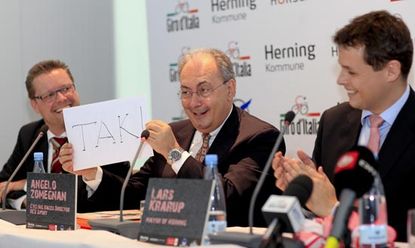 Brit David Millar topped the final stage's results and closed the Giro d'Italia on Sunday in Milan. He and the other 158 cyclists completed one of the toughest editions in recent history - some say too tough.
"They can stay at home if they prefer," race director Angelo Zomegnan said. "In the last week, when Diego Ulissi and Eros Capecchi won, they rode 50kph in the first two hours. Maybe it's not hard enough."
Zomegnan presented the Giro d'Italia in October in Turin, where the race started on May 7. The route celebrated Italy's 150th anniversary of unification and as such, touched 17 of Italy's 20 regions - it spared only Sardinia, Puglia and Valle d'Aosta.
To get from Turin to Mount Etna and back north, the route called for numerous transfers. Though the riders flew from Sicily's Mount Etna to Termoli, the majority of the race caravan went by car. If you add that transfer to the others (the ones between stages six and nine, after Ravenna and after Sestriere) you get 21 hours.
Once in the north, the riders faced a typical Giro d'Italia finale, a series of mountain stages: three consecutive mountaintop finishes, followed by a rest day, a mountain time trial to Nevegal, two lighter days - when Ulissi and Capecchi won - two more mountain top finishes and the time trial that Millar won.
When Millar finished the final mountain stage to Sestriere, he half jokingly said, "F**k you, Giro."
After his win, he clarified himself.
"I think it is too much, I don't think it makes for good racing. The organisers need to take a step back and a look at what they are doing," Millar explained.
"It's not the direction that modern cycling should be going. We as a peloton, it's our responsibility to do something. It's one thing to just complain to the press. We actually need to group together and actually try to get one collective voice to speak to the UCI and the race organisers."
Millar, when asked, said that he'd help facilitate such an effort or to form a group to do so.
Zomegnan may partially blame race winner Alberto Contador for a uneventful final week. Without Contador, the Giro would have been a tighter battle. He may also blame himself for the numerous mountaintop finishes and transfers. Either way, he has heard the complaints.
"The big difference between the Giro and the other Grand Tours, is that the finish line is on the mountain, not on the downhill. We can finish just after the hill, 10 kilometres later, but it's just not the same," Zomegnan continued.
"There are many things to change. This year, in particular, we had many obligations. We had to go to many regions, 17 - too much. We put the riders, the caravan, etc, under extra stress [with the transfers].
"On the sporting side, I have nothing to regret."
The Giro could have been worse. In 1961, to celebrate 100 years of unification, the route took both of the country's two big Islands: Sardinia and Sicily.
The race starts in Denmark next year. Similar to the Amsterdam start last year, it will probably use the fourth day as a transfer/rest day to enter Italy. Once in the country, Zomegnan may decide to take the riders on a less demanding route.
Zomegnan will unveil the entire 2012 route in the autumn, likely in October.
Giro d'Italia 2011: Latest news
Deignan still learning in sixth Grand Tour
Giro changes again as final Milan time trial shortened
What riding the Giro has done for Peter Kennaugh
Millar's time trial practice run
Nibali gives up hope for Giro d'Italia win
Contador ignores Armstrong doping investigation
Giro d'Italia News Shorts (May 24)
Controversial Crostis climb removed from Giro route
Sky leader Lofkvist loses more time at the Giro
Giro contenders struggle with Contador's dominance
Contador widens Giro advantage but Tour doping case waits
Porte reflects, one year after Giro success
Le Mevel goes on attack for Giro's pink jersey
Giro fines Contador for missing press conference
Cavendish responds to 'team car' accusations at Giro
Giro d'Italia News Shorts (May 15)
Giro's Sicilian cyclists proud to face Mount Etna
Contador surprises at Giro with attack ahead of mountains
Contador minds food at Giro as CAS decision nears
Weening supported by Rabobank and model Kroes
Local lad Appollonio bears fruit in Fiuggi
Giro d'Italia News Shorts (May 12 edition)
Blythe finding way in second Grand Tour
Leopard-Trek withdraws from Giro d'Italia
Leopard-Trek uncertain to continue in Giro
Tuesday's Giro stage in memory of Weylandt
Giro doctor describes actions to save Weylandt
Wouter Weylandt killed in Giro crash
Giro news shorts (May 8)
Cavendish likely to take Giro lead tomorrow
Giro 2011: Who will win?
Giro d'Italia 2011: Stage reports
Stage 21: Millar wins Giro's final time trial, overall result in doubt
Stage 20: Kiryienka wins final road stage as scrap for overall places unfolds
Stage 19: Tiralongo grinds to Giro stage win
Stage 18: Capecchi takes Giro stage win as contenders take day off
Stage 17: Ulissi prevails in controversial Giro sprint
Stage 16: Contador lords it over the rest in Giro TT
Stage 15: Nieve wins mountain marathon as Contador continues at the top
Stage 14: Anton conquers Zoncolan in shortened stage
Stage 13: Contador consolidates Giro overall as Rujano takes stage
Stage 12: Cavendish holds off Appollonio to take second victory
Stage 11: Gadret grabs dramatic stage win
Stage 10: Cavendish opens his Giro account
Stage nine: Contador storms Etna to take Giro lead
Stage eight: Gatto springs late attack to take win
Stage seven: Neo-pro De Clercq wins by a whisker
Stage six: Ventoso steals Giro stage six win
Stage five: Weening holds on to take stage and maglia rosa
Stage four: Tearful Farrar and Leopard-Trek lead riders across stage four finish line
Stage three: Vicioso victory overshadowed by Weylandt crash
Stage two: Petacchi wins as Cavendish takes lead
Stage one: HTC-Highroad wins Giro's opening team time trial
Giro d'Italia 2011: Photo galleries
Stage 21 photo gallery by Graham Watson
Stage 20 photo gallery by Graham Watson
Stage 19 photo gallery by Graham Watson
Stage 18 photo gallery by Graham Watson
Stage 17 photo gallery by Graham Watson
Stage 16 photo gallery by Graham Watson
Stage 15 photo gallery by Graham Watson
Stage 14 photo gallery by Graham Watson
Stage 13 photo gallery by Graham Watson
Stage 12 photo gallery by Graham Watson
Stage 11 photo gallery by Graham Watson
Stage 10 photo gallery by Graham Watson
Stage nine photo gallery by Graham Watson
Stage eight photo gallery by Graham Watson
Stage seven photo gallery by Graham Watson
Stage six photo gallery by Graham Watson
Stage five photo gallery by Graham Watson
Stage four photo gallery by Graham Watson
Stage three photo gallery by Graham Watson
Stage two photo gallery by Graham Watson
Stage one photo gallery by Graham Watson
Giro d'Italia 2011: Live text coverage
Giro d'Italia 2011 stage 19 live text updates
All previous live coverage can be found here>>
Giro d'Italia 2011 stage 16 live text updates
Giro d'Italia 2011 stage 13 live text updates
Giro d'Italia 2011 stage 11 live text updates
Giro d'Italia 2011 stage seven live text updates
Giro d'Italia 2011 stage five live text updates
Follow the 2011 Giro d'Italia live with Cycling Weekly
Giro d'Italia 2011: Start list
Giro d'Italia 2011: Start list
Giro d'Italia 2011: TV schedule
Giro d'Italia 2011: British Eurosport TV schedule
Related links
Giro d'Italia 2010: Cycling Weekly's coverage index
Thank you for reading 5 articles this month* Join now for unlimited access
Enjoy your first month for just £1 / $1 / €1
*Read 5 free articles per month without a subscription
Join now for unlimited access
Try first month for just £1 / $1 / €1