'Grand Tour riders will become more valuable with eight rider teams'
Team directors say reduced teams will make selection even harder for Grand Tours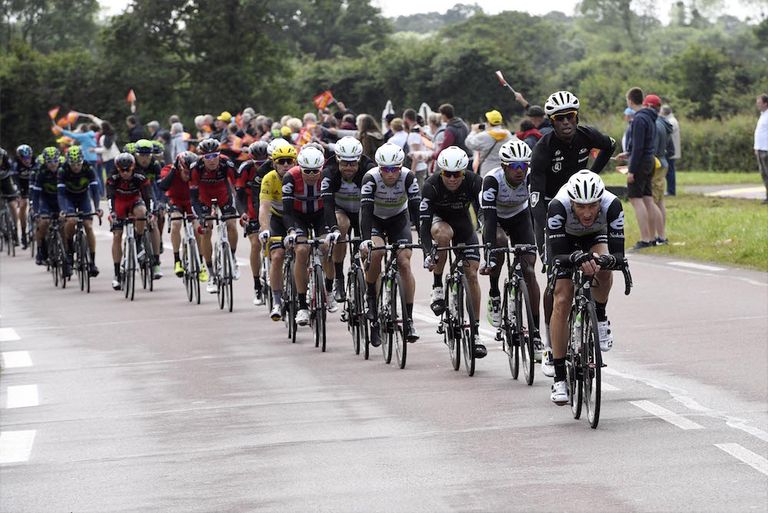 (Image credit: Yuzuru SUNADA)
The decision to reduce the number of riders per team in Grand Tours from nine to eight from the 2018 season will make riders more valuable as there will be less opportunities for many to race three-week stage races.
That is the view of Dimension Data sports director Roger Hammond, who dismissed suggestions that the ruling – announced on Thursday as part of increased safety measures – would dramatically alter the dynamics of racing tactics.
>>> 2018 Tour de France rescheduled to reduce clash with FIFA World Cup
"What does it change?" Hammond pondered to Cycling Weekly. "Little. We run out of riders with nine riders, so we are going to run out with eight, so nothing really changes. It will make races harder to control, but significantly harder? I doubt it."
The impact, Hammond believes, will be on the value of riders and domestiques who aren't guaranteed Grand Tour selection each year.
"Does it make the Tour de France more valuable?" he questioned.
"I think it will make Tour teams more expensive to run. Riders will be more valuable because they have to be better at what they do and they can command a price."
Rolling away on the turbo, Steve Cummings, who won the British National Championships time trial yesterday, interjected: "There'll be pros without jobs – prices will maybe go up, prices will maybe go down."
Hammond added: "It will be more disappointing for riders because Grand Tours are getting more and more important to ride, so that means there are less opportunities.
"That's three riders in a season who would have had a ride and won't now. For furthering careers it's important [to ride a Grand Tour]."
Rod Ellingworth, Hammond's counterpart at Team Sky, commented: "It will make selections hard. We have left out some really fit and healthy bike riders this year so it will make that even harder.
"Last year [at the Tour] was the first time we'd finished with nine riders, so when you look back, eight rider teams won't make a huge difference.
"Will it change anything tactically? Not massively. If it went down to six it would – the races were it is six-man teams are quite difficult – but I wouldn't have thought they'd do that in a Grand Tour."
Richard began working with Cycling Weekly in 2013 alongside the then web editor, Nigel Wynn. Taking over as digital editor or Cycling Weekly and mbr in 2014, Richard coordinates site content and strategy with the team.