Hill Climb National Championships moved with one month's notice
Some riders upset that the event has been moved 130 miles away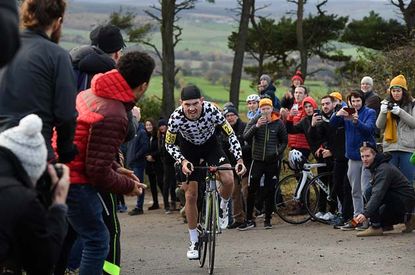 (Image credit: Andy Jones)
The Hill Climb National Championships, one of the jewels in the crown of the domestic racing calendar, have been moved with just one month's notice.
The Championship had been due to take place at the Shelsley Walsh climb in Worcestershire on 28 October, but it has now been moved to Pea Royd Lane in Stocksbridge near Sheffield, 130 miles away.
Riders who have entries to the Shelsley climb, which is a private road, will have their entries transferred to the new event, they are free to withdraw before October 9.
Riders who had booked a spot on the warm-up event at Shelsley Walsh on October 7 are also able to cancel their entry.
However, some riders expressed dismay at the change on social media as they had invested in accommodation and transportation to the original venue. Some even argued that the change was a breach of governing body Cycling Time Trials' regulations.
Nick Sharpe, national secretary of Cycling Time Trials, told Cycling Weekly the decision to move the event "had not been taken lightly".
Sharpe declined to explain fully the reasons behind the change but said: "There were difficulties with continuing with the promotion of the event at Shelsley Walsh and so to continue the championship the venue had to be changed."
He added that the choice of the Pea Royd Lane course was largely because it was similar in length and gradient to the Shelsley Walsh climb to try and ensure that the riders that had trained for the specific demands of the event would still have a good chance of being competitive.
Sharpe said the most important thing was that the event to continue as it is one of the biggest in the CTT and domestic racing calendar.
The promoter of the Shelsey Walsh event for Worcester and St Johns CC declined to comment when contacted by Cycling Weekly.
Pea Royd Lane, which is just over 1km long at an average gradient of 12%, has hosted the National Hill Climb championship on two occasions in the past; in 2009 it was won by Dan Fleeman and Anna Fischer, in 2014 by Dan Evans and Maryka Sennema. Evans and Sennema's 2014 times still stand as the Strava KOM and QOMs.
However, as Cycling Weekly reports in today's magazine, Evans will not be defending his title at this years event as he will instead be riding the Taiwan KOM challenge, previously won by Vincenzo Nibali.
Thank you for reading 20 articles this month* Join now for unlimited access
Enjoy your first month for just £1 / $1 / €1
*Read 5 free articles per month without a subscription
Join now for unlimited access
Try first month for just £1 / $1 / €1