Fiona Burnie and Andrew Feather crowned British national hill climb champions
Two maiden winners claimed the gruelling titles on Sunday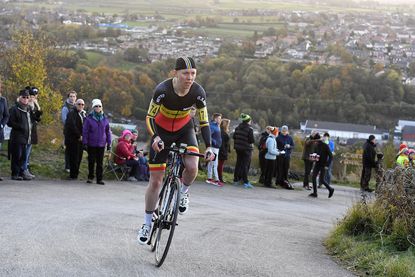 The National Hill Climb Championships were claimed by first-time winners in South Yorkshire.
Andrew Feather claimed the men's title with a perfectly executed plan while Fiona Burnie took the women's race with a wafer-thin margin on Sunday.
The championships had been slated for the Shelsley Walsh climb in Worcestershire, but had to be moved to Pea Royd Lane in Stocksbridge, near Sheffield at the last minute.
Feather is a former elite racer on the road.
>>> Get better at climbing hills: top tips to speed up your ascents
The BCR Racing rider had planned to save his energy early on and was fading in the final 100 metres, but held on for the win.
Feather finished in 2-18, ahead of Calum Brown of Team B38-Underpin Racing who was two seconds behind.
He also beat 2016 champion Adam Kenway of Vitus Pro Cycling, who raced later in the day after weather had deteriorated.
Feather had won 11 out of the 14 hill climb events leading up to the national champs, including five consecutive wins.
In the women's race, Fiona Burnie of GS Metro took the victory just half a second ahead of her nearest rival.
Burnie had picked up a win three weeks earlier and was able to deliver at the nationals on Sunday.
She rode before the rain came down and took the women's title just 0.6 seconds ahead of second place Mary Wilkinson of Yorkshire Road Club.
Results
National hill climb championships
Men
1. Andrew Feather (BCR Racing), in 2-18-8
2. Calum Brown (Team B38-Underpin Racing, at 2 seconds
3. Adam Kenway (Vitus Pro Cycling), at 3 seconds
Women
1. Fiona Burnie (GS Metro), in 3-05-4
2. Mary Wilkinson (Yorkshire RC), at .6 seconds
3. Kate Mactear (University of Bristol CC), at 9 seconds
Thank you for reading 20 articles this month* Join now for unlimited access
Enjoy your first month for just £1 / $1 / €1
*Read 5 free articles per month without a subscription
Join now for unlimited access
Try first month for just £1 / $1 / €1