Jon Mould and Alice Barnes triumph in Stevenage Tour Series round
JLT Condor strengthen lead in Tour Series in the final week as Drops Cycling score a 1-2-3 in the Matrix Fitness Grand Prix in Stevenage, Hertfordshire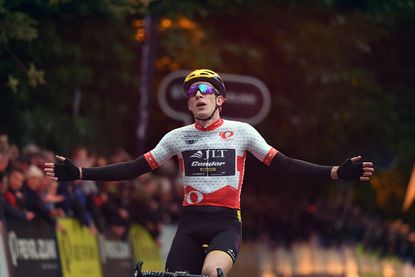 (Image credit: Andy Jones)
Jon Mould (JLT Condor) took his fifth individual win in the 2016 Pearl Izumi Tour Series, sprinting to take round eight in Stevenage on Monday evening.
Mould accelerated ahead of Johnny McEvoy (NFTO) and JLT team-mate Graham Briggs to take the victory - the 10th Tour Series win of his career.
With Briggs in third, Chris Lawless in fourth and Ed Clancy in eighth, JLT Condor once again took the team victory on the night to extend their leader further in the overall classification.
>>> Tour Series 2016: Latest news, reports and info
JLT Condor now sit 10 points ahead of second-placed Madison-Genesis as the series heads into its penultimate race in Croydon this evening – the route of which, incidentally, runs straight past the front door of Cycling Weekly's office.
Alice Barnes (Drops Cycling) headed up a clean sweep of the top three for Drops Cycling in round four of the Matrix Fitness Grand Prix.
Just as she did during Saturday evening's Mr Porter London Nocturne, Barnes accelerated away from the field to take a convincing solo victory.
>>> Chris Lawless and Alice Barnes win 2016 London Nocturne
Barnes's Drops Cycling team-mates Rebecca Durrell and Laura Massey placed second and third.
The result increases Drops Cycling's lead in the overall standings with two rounds remaining this week.
Pearl Izumi Tour Series round eight: Stevenage
Individual classification for round eight
1. Jon Mould (JLT Condor)
2. Johnny McEvoy (NFTO)
3. Graham Briggs (JLT Condor)
4. Chris Lawless (JLT Condor)
5. Ian Bibby (NFTO)
6. Felix English (Madison-Genesis)
7. Jack Pullar (Pedal Heaven)
8. Ed Clancy (JLT Condor)
9. Matthieu Boulo (Raleigh-GAC)
10. James Lowsley-Williams (NFTO)
Team classification after round eight
1. JLT Condor 85 pts
2. Madison-Genesis 75 pts
3. Pedal Heaven 71 pts
4. Raleigh-GAC 70 pts
5. NFTO 58 pts
6. Team Wiggins 5 pts
Watch: Warming up for a quick race
Matrix Fitness Grand Prix round four: Stevenage
Individual classification for round four
1. Alice Barnes (Drops Cycling)
2. Rebecca Durrell (Drops Cycling)
3. Laura Massey (Drops Cycling)
4. Harriet Owen (Matrix Fitness)
5. Grace Garner (Podium Ambition)
6. Emily Kay (Team Breeze)
7. Charline Joiner (Ford Ecoboost)
8. Neah Evans (Scotland Cycling)
9. Lydia Bolan (Team WNT)
10. Nikki Juniper (Ford Ecoboost)
Team classification after round four
1. Drops Cycling 382 pts
2. Podium Ambition 329 pts
3. Ford EcoBoost 294 pts
4. Team Breeze 277 pts
5. Team WNT 243 pts
Thank you for reading 20 articles this month* Join now for unlimited access
Enjoy your first month for just £1 / $1 / €1
*Read 5 free articles per month without a subscription
Join now for unlimited access
Try first month for just £1 / $1 / €1