Marcin Bialoblocki smashes Alex Dowsett's 10-mile time trial record with 16-35
New men's and women's national 10-mile time trial competition records sets in 'perfect conditions' in Yorkshire on Saturday - Marcin Bialoblocki records time of 16-35 - Anna Turvey clocks 19-08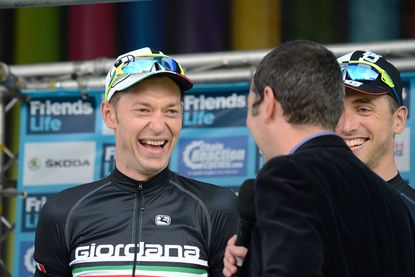 Both the men's and women's national 10-mile time trial competition records fell in East Yorkshire on Saturday in near perfect conditions for the SSLL Racing Team 10-mile event at South Cave.
Marcin Bialoblocki (One Pro Cycling) slashed 45 seconds from Alex Dowsett's previous national men's record, while Anna Turvey (Tyneside Vagabonds CC) lowered Hayley Simmonds' two-week-old women's record by ten seconds.
Bialoblocki clocked 16-35 for the infamous V718 course, while Turvey powered round in 19-08.
"We had very good conditions with no wind, so it was ideal," said Bialoblocki, 33 and from Somerset. "It was maybe a bit slow at the turn because it was a little bit damp, but otherwise perfect.
"My goal was to go under 17 minutes, so I am very happy with my time. I knew I had to go over 50kph."
Having equalled Dowsett's record two weeks ago, James Gullen (Pedal Heaven) was under the spotlight too. But he had to settle for second despite taking 11 seconds from Dowsett's mark, clocking 17-09 but finishing after Bialoblocki and so not registering a national record.
Third spot went to Steve Irwin (North Lancs RC) whose time of 17-49 was a new national age group record.
36-year-old Anna Turvey from Newcastle, who will represent Ireland in the European Time Trial Championships in France on Friday, knew that the record was achievable.
>>> Pit yourself against Team Sky riders in a time trial around Silverstone race track
"I knew that ride was there, I've had a lot of bad luck recently with illness and misfortune, but I've known that on the right day I had a big ride in me.
"I had a chest infection so I was below par for the National 10 and 25 even though I got second, and I did a 19-27 on this course recent, but had a late start so it didn't count.
"I only got to the course with 40 minutes to spare before my ride, because there was an accident and also I took a wrong turn and had to detour 20 miles! But it didn't affect my performance."
Five riders went under 18 minutes on a near perfect afternoon for the charity event, which raised an estimated £2,000 for Erb's Palsy charities.
"It was a superb day," said organiser Simon Beldon. "There was very little wind, and what there was was in the right direction so most riders had a tailwind on the way back, which is the longer leg.
"We had a full field of 150 riders, plus reserves, and I had to send back a lot of entries too, so it was a really successful day."
Results
1. Marcin Bialoblocki (One Pro Cycling) 16-35
2. James Gullen (Pedal Heaven) 17-09
3. Steve Irwin (North Lancs RC) 17-49
Women: Anna Turvey (Tyneside Vagabonds CC) 19-08
Thank you for reading 20 articles this month* Join now for unlimited access
Enjoy your first month for just £1 / $1 / €1
*Read 5 free articles per month without a subscription
Join now for unlimited access
Try first month for just £1 / $1 / €1