National Hill Climb champion suffers broken collarbone after crash with Tour de Yorkshire race security
Lowden is expected to require surgery following crash involving a motorbike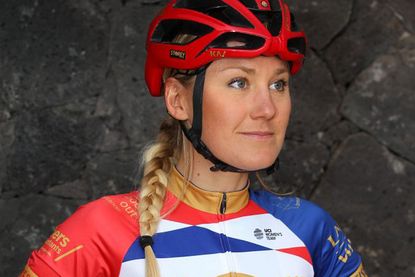 Storey Racing began stage two of the women's Tour de Yorkshire one rider down on Friday after promising 2018 recruit Joscelin Lowden crashed out of stage one following an incident with a race security motorbike.
The former runner and current National Hill Climb champion crashed during the first day, resulting in a fracture of her right clavicle.
Lowden is being treated at HMT Hospitals, one of Storey Racing's sponsors, and is expected to require surgery.
>>> Joscelin Lowden's 'borrowed' national hill-climb winning bike (gallery)
The team has confirmed in a statement that the crash involved a "motorbike that was part of the race security" - adding "TV coverage will be assessed with regards to the cause of the crash."
Lowden, who won the 2017 Hill Climb Championships riding for Lewes Wanderers and started cycling competitively in time trials in 2016, had been feeling good up until the time of the crash.
The team commented: "For Joss Lowden the race left a bittersweet taste, having had enough of the stage to know her legs were in great shape, but finishing on a spine board awaiting the result of a CT scan – which fortunately came back all clear."
"Her team issue KASK Infinity helmet showing it's superior protective qualities as it has done for team mates previously", they said, adding " the unfortunate result of the crash was a displaced fracture of her right clavicle which is expected to require surgery in the coming days.
"The team are working closely with our sponsor HMT Hospitals who are doing a superb job in arranging everything at short notice."
Thank you for reading 5 articles this month* Join now for unlimited access
Enjoy your first month for just £1 / $1 / €1
*Read 5 free articles per month without a subscription
Join now for unlimited access
Try first month for just £1 / $1 / €1