Brian Cookson 'very concerned' at further Rio 2016 velodrome delays
Brian Cookson says he is concerned that the Rio 2016 Olympic velodrome will not be completed with enough time to host testing or practice before the Games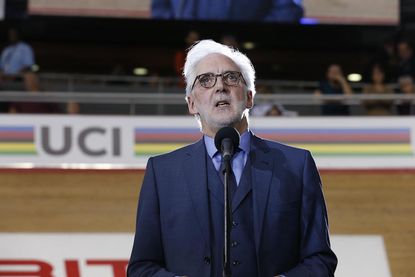 (Image credit: Yuzuru SUNADA)
UCI president Brian Cookson has expressed concerns that delays in completing the velodrome in the Rio 2016 Olympic Park will mean there will not be time for a test event before August's Games.
Cookson, who had previously stated he was confident the 5,000 venue would be complete on time, now worries the velodrome will not be ready for hand-over with enough time for testing.
"I'm very unhappy about that," Cookson said in an interview with the Associated Press. "The progress still seems to be incredibly slow. We now believe we don't have any time for any proper test events, and that's very, very worrying.
"I want to encourage our friends in Rio to live up to the commitment that they've made and have the venue finished and operational -- fully -- several weeks before the Games."
>>> Peter Sagan may ride MTB at the Olympics after wildcard place is requested
The president noted that the BMX and mountain biking courses were already complete, but the velodrome, scheduled for completion in March, was still unfinished.
A test event in March, and pushed back to April, was cancelled and Cookson believes there are problems with a planned training weekend at the end of June.
"We are very concerned that the major flagship of our sport will be properly presented," Cookson said.
Brazilian sports minister, Leonardo Picciani, says work on the velodrome will be finished in June, with only fine tuning needed after that, according to AP.
Thank you for reading 20 articles this month* Join now for unlimited access
Enjoy your first month for just £1 / $1 / €1
*Read 5 free articles per month without a subscription
Join now for unlimited access
Try first month for just £1 / $1 / €1