Ed Clancy sets his target on Tokyo 2020 golds before retirement
Ed Clancy hopes to retire after Tokyo 2020 where he has his eye on two possible medals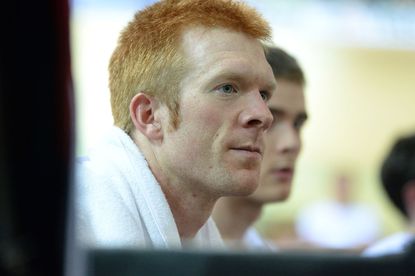 He's got three Olympic gold medals to his name already, but Ed Clancy is far from finished with cycling, with the 31-year-0ld targeting one more Games.
Clancy will be 35 in Tokyo in four years time, but the hunger to defend the team pursuit title for a fourth Games in a row is great enough to spur him on for another Olympic cycle.
But one medal may not be enough for the Yorkshireman, who has set his sights of gaining his place back as Team GB's premiere omnium rider, having watched Mark Cavendish ride to silver in Rio.
"Tokyo is the dream. I would love to spend a little bit more time for the next two years with a road focus, and then the last 18 months, two years, put all my eggs in the Tokyo basket for one last team pursuit and/or omnium. That would be a nice way to finish my career," he told Sky Sports.
Ed Clancy's guide to the omnium
Clancy won bronze in the omnium at London 2012, but was forced to give up the event in Rio because of a back injury, suffered last September.
Cavendish then stole a march on Clancy in the race for Britain's only omnium pace. Clancy admits the decision paid off to take Cavendish, but he'll fight hard to make the event his own again.
"The only reason I had to give [the omnium] up this year was the injury," he added. "We had the Derby Revolution [in August 2015] - that was a big point for us, a big selection point. It's fair to say at that point in time, after me and Cav had a bit of a duel and I came out on top, I was in pole position.
"However, it wasn't plain sailing this winter. Obviously, [British Cycling] selected Cavendish to ride it, which made complete sense, and looking at how he rode, it was the right decision. But that said, I will give it a crack in Tokyo.
"I have always fancied the idea of retiring in Tokyo when I was 35. It seems like a good age. I've got plenty of time afterwards to do other things."
Ed Clancy is racing back on the track in the UK at Revolution in Manchester on 17th September. Tickets are available now: www.cyclingrevolution.com
With Cavendish winning the Olympic medal he craved in Rio it could mean the Manxman won't be a rival for the track again in 2020, but there are plenty of other potential omnium riders in the British squad.
Jon Dibben, who will be one of the front runners to take one of the vacant places in the team pursuit lineup, is a former silver medalist in the event at the junior World Championships and has won silver and bronze at the European Track Championships. Dibben also won the world points race title in London back in February.
Thank you for reading 20 articles this month* Join now for unlimited access
Enjoy your first month for just £1 / $1 / €1
*Read 5 free articles per month without a subscription
Join now for unlimited access
Try first month for just £1 / $1 / €1