Emotional Fabian Cancellara savours emphatic swansong to historic career
"This will leave me without any doubt about retiring," says Swiss legend after winning second Olympic gold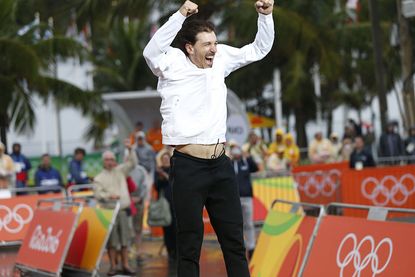 (Image credit: Yuzuru SUNADA)
Fabian Cancellara (Switzerland) says he "put 16 years of experience on the table" to win a gold medal in the Olympic time trial, as he signed off his final season as a professional in the best possible way.
Talk before the event had focused on Tom Dumoulin (Netherlands) and Chris Froome (Great Britain), but Cancellara produced a vintage display to take the gold medal, leading Dumoulin by 47 seconds. Froome finished with bronze.
"This was the last time for me to try to win an Olympic medal. It means so much to me," the Swiss rider said. "There are just no words. To leave the sport at the end of this season with the gold medal is just a perfect way to end my career. It was a big scream on the podium. This was the last big time trial of my life."
>>> Twitter reacts to Cancellara's time trial win
Cancellara's palmarès already staked a claim to greatness.
In addition to Olympic gold in Beijing 2008, he has four World Championship wins, three wins apiece in Paris-Roubaix and the Tour of Flanders, as well as seven stages in the Tour de France.
This year he announced his retirement from professional cycling, and his Rio win was a classic showpiece of his ability to pace himself and produce his best performances when the pressure is on.
"It's everyone's own choice when they want to retire," he said. "I knew it would be a special year. I've had many highlights, with the classics, then the Tour de France in Switzerland, and then the Olympic Games.
"I am just thankful that I came here healthy, because this is what you need to have. I am super proud. To win a gold medal in your retirement year, I am super proud. This will leave me without any doubt about retiring."
Watch: Chris Hoy remembers London 2012
If much of the focus ahead of the time trial was on other riders, the 35-year-old had no doubt that he could do it.
"I came here to win a medal. That was the clear goal. When we left Switzerland, we knew that we did everything the right way.
"I knew it would be one of my last races. I didn't want to fail. I was looking at the details, the right tyres, the right wheels, the right massage. Last night, I had to get out of my room, and went down to be with other people so I didn't want to think about this race. I felt good this morning."
>>> Chris Froome salutes 'unbeatable' Cancellara
A tough course presented an enthralling all-round test of rider skills: not just pacing the effort across a succession of punchy climbs, but controlling descents down twisting, wet, slippery roads.
"It was important to make the right rhythm on the race," said Cancellara. "I didn't want to go out too hard, because a one-hour time trial is very long, so you wouldn't have anything left in the end. We paced it perfectly.
"It was two laps, and it's the second lap that counts. I just put 16 years of experience on the table. It was a perfect day to make history, and to make another book to look back at what you did."
Thank you for reading 20 articles this month* Join now for unlimited access
Enjoy your first month for just £1 / $1 / €1
*Read 5 free articles per month without a subscription
Join now for unlimited access
Try first month for just £1 / $1 / €1