Olympic time trial: Chris Froome salutes 'unbeatable' Cancellara
"I gave it everything I had," says Tour de France winner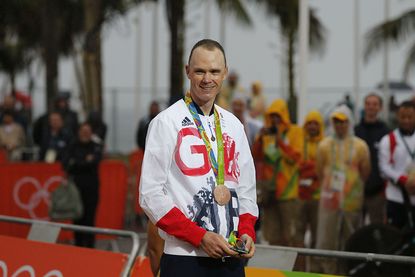 (Image credit: Yuzuru SUNADA)
Bronze-medal winner Chris Froome says that the margin of Fabian Cancellara's victory in the Olympic time trial was so wide that he is left with no regrets.
One of the pre-event favourites, the Tour de France winner never looked in contention from the first split, as Cancellara rolled back the years in his final Olympic appearance to claim a gold medal for Switzerland.
Tom Dumoulin came home in second place, 47 seconds behind Cancellara, with Froome a further 15 seconds back.
"Fabian was the strongest rider out on the road today," said Froome. "As Tom said, had it been a smaller time gap in front of us, maybe five or 10 seconds, then you can think about what might have gone wrong, and where you could have made up that time. But for me, I was going to be making up a minute on him.
"I gave it everything I had out there today, but Fabian was unbeatable."
Froome, who also won a bronze medal in the London 2012 time trial, admitted that his achievements in Rio were a bonus after his third Tour de France victory this summer.
"I'm chuffed to win another Olympic medal," he said. "I can't be disappointed, especially after the season I've had.
"The focus of my season this year was the Tour de France, so to come back to the Olympics, to medal for a second time, is an amazing feeling. I've got no regrets. I gave it everything today."
Watch: Chris Hoy remembers London 2012
For Dumoulin, however, there was no Grand Tour win to ease the pain. He was favourite for the event, even after fracturing his arm in the closing stages of the Tour and he admitted to feeling the pressure ahead of the time trial.
"I was so focused the past couple of weeks, that I forgot to enjoy being at the Olympics," he said. "I was focusing on this TT, with a lot of doubt and insecurity about my race.
"Maybe in a couple of decades I will tell my grandchildren about this, but now, I forgot to enjoy being at the Olympics and living my dream."
Like Froome, however, Dumoulin admitted that the best rider had won on the day.
"I had my objective at the beginning of the year, and that was the gold medal. I didn't succeed. Everyone keeps telling me how proud I should be proud of myself especially after the injury, and I know I should be, and I know I will be tomorrow.
"On the other hand, 47 seconds is a lot. Too much for me today. Fabian was absolutely flying. He was much better than Chris or me. It's not like you miss a corner – he was just a lot better than the two of us."
Thank you for reading 10 articles this month* Join now for unlimited access
Enjoy your first month for just £1 / $1 / €1
*Read 5 free articles per month without a subscription
Join now for unlimited access
Try first month for just £1 / $1 / €1