Hoy to ride 2012 Olympic velodrome on Tuesday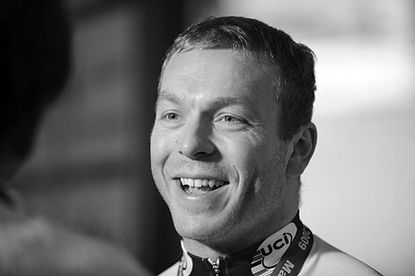 Sir Chris Hoy will ride around London's Olympic velodrome on Tuesday (July 27) to mark the two-year countdown until the start of the 2012 Olympic Games in the British capital.
With no wooden track yet in place, quadruple Olympic champion Hoy will ride around the inner part of the Olympic velodrome in London's east end. It will be a symbolic gesture rather than a serious race-pace ride.
Hoy won three gold medals at the 2008 Olympic Games in Beijing: sprint, team sprint and keirin. The Scotsman's fourth Olympic gold was won at the 2004 Games in Athens in the now defunct kilometre time trial event.
As well as Hoy's circuit of the velodrome, several other events will take place in the capital to mark the two-year countdown to the London Games including an all-day celebration in Trafalgar Square.
Earlier this month, Hoy announced that he would not be riding for Scotland at the 2010 Commonwealth Games in Delhi, India, in September. Instead he will concentrate on riding in the European Track Championships, a qualifying event for the 2012 Games.
Related links
Hoy forced to pull out of Commonwealth Games
Sir Chris Hoy: Rider Profile
Cycling Weekly's 2012 Olympic Games news section
Thank you for reading 20 articles this month* Join now for unlimited access
Enjoy your first month for just £1 / $1 / €1
*Read 5 free articles per month without a subscription
Join now for unlimited access
Try first month for just £1 / $1 / €1