Julie Bresset wins Olympic mountain bike gold for France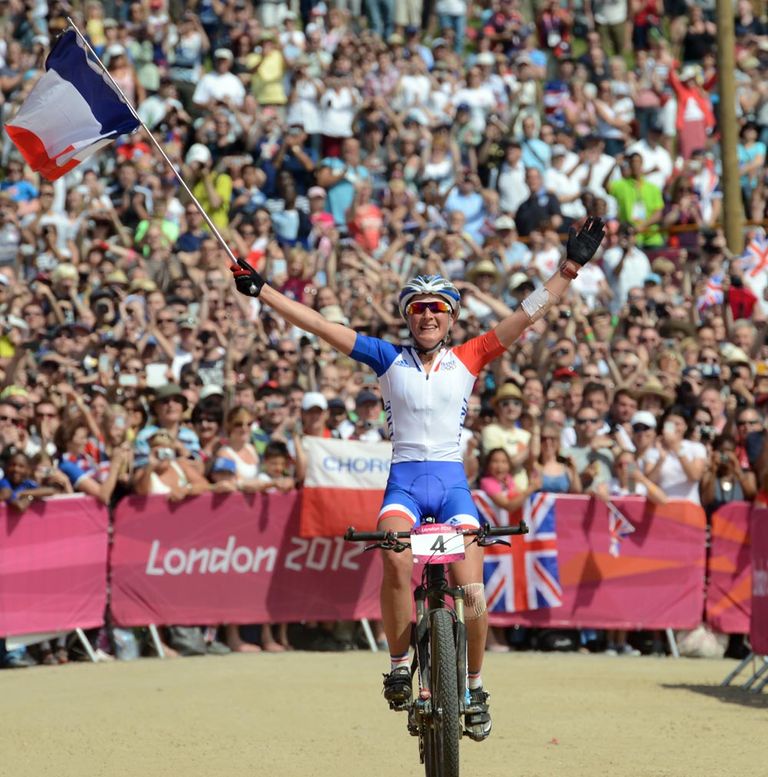 Women's mountain biking photo gallery by Graham Watson>>
Olympic debutant Julie Bresset (France)
dominated the London 2012 women's cross country mountain bike event
at Hadleigh Farm, Essex, on Saturday
from the gun to take an emphatic win.
Defending Olympic champion Sabine Spitz (Germany) took silver, with Georgia Gould (USA) claiming bronze. Britain's Annie Last (Great Britain) - also making her Olympic debut - rode strongly around the six laps of the undulating, sun-baked circuit to finish eighth.
Last positioned herself well on the opening lap, joining up with Bresset, Spitz, Gould, Catharine Pendrel (Canada) and Irina Kalentieva (Russia). By the second lap, the leaders had put a good gap between themselves and the rest of the field.
Bresset, Spitz and Gould then upped the pace as Last, Pendrel and Kalentieva lost contact. By the half-way point, Bresset had gained left her two companions and was over 30 seconds on Last and Kalentieva. Pendrel couldn't maintain the pace, and dropped back into the field.
Spitz crashed on one of the rocky sections, holding up Gould and allowing Bresset to move ahead further. The usually collected Spitz was momentarily flustered after the incident, allowing Gould to overtake and create a gap. However, the German soon showed her experience by getting back in contact with Gould, passing her and then moving ahead to chase Bresset.
On the fourth lap, Kalentieva had dropped Last. Switzerland's Esther Suss then caught and passed the Briton, putting her down into sixth at that point. Bresset showed no sign of slowing down her impressive solo effort and was never going to be caught as Gould put in a huge effort to try and keep in contact with Spitz in the fight for silver.
Despite the chasers' best efforts, Bresset crossed the line with over a minute's advantage on Spitz, with Gould close behind. It is France's first gold medal in the 2012 cycling events.
"I took the front of the race and I managed it well. When I had a gap I told myself: 'Now, I should go'. I led until the finish and I'm very content," she said.
Annie Last said; "I'm really pleased with my performance today. I came in to this race wanting to get the best out of myself today, and that's what I did. The plan was to get a good start, I wanted a clean run at the first bit of the lap."
"I am the only GB woman who's up there at world level at the moment, that meant qualification for the Olympics was really difficult," she continued. "It's the top three riders from every nation whose points go towards qualification and I was the only GB woman scoring those points.
"So for the past two years I've had to work really hard to qualify for the Olympics, never mind prepare for the actual race."
Last put her medical studies on hold as she focused on London and has no plans to go back just yet. "This is what I'm going to continue doing. There's a lot I can progress on as long as I can see I can go faster I'll continue doing it."
Results

London 2012 Olympic Games: Women's cross-country mountain biking
1. Julie Bresset (France) in 1-30-52
2. Sabine Spitz (Germany) at 1-02
3. Georgia Gould (USA) at 1-08
4. Irina Kalentieva (Russia) at 1-41
5. Esther Suss (Switzerland) at 1-54
6. Alexandra Engen (Sweden) at 2-16
7. Aleksandra Dawidowicz (Poland) at 2-28
8. Annie Last (Great Britain) at 2-55
9. Catharine Pendrel (Canada) at 3-36
10. Tanja Zakelj (Slovenia) at 3-49
Devil's Drop
Spectators view the action
Britain's Annie Last in eighth
Julie Bresset celebrates her win in front of huge crowds
Sabine Spitz takes silver
Spitz (silver), Bresset (gold) and Gould (bronze) on the podium
Related links
London 2012 Olympic Games coverage index