Kenny stuns Bauge in sprint to win second Olympic gold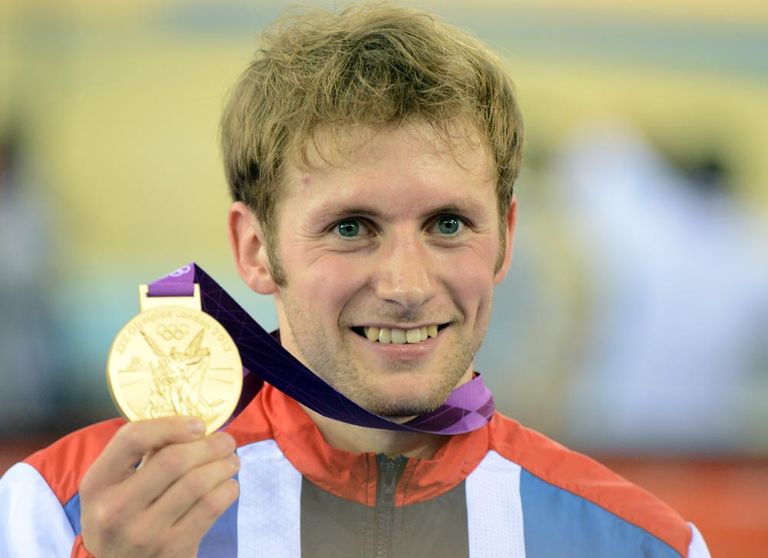 Jason Kenny became Britain's first double gold medallist of the London 2012 Olympic Games by beating the brilliant Gregory Bauge in the sprint final on Monday.
Frenchman Bauge has been unbeatable in World Championships since 2009 but Kenny disposed of him in two straight races to take the British cycling team's fifth gold in the velodrome, and leaving Bauge perplexed.
The Frenchman, who has won every sprint world title since 2009 (although he was stripped of the 2011 title for irregularities in his whereabouts information) looked like he was struggling to understand Kenny's performance and so started asking the questions in the post-race press conference.
"What do you do differently before the Olympics? How do you prepare?" he asked. Then he went on to ask if Kenny would simply relax for the next four years before coming back and winning in Rio.
The questions seemed borne out of the frustration of being beaten in two straight races by Kenny, who had never beaten the Frenchman in a World Championship.
Bauge has had to settle for two silvers as Kenny has won two golds.
The British team has now won a medal in six of the seven events they have competed in, only missing out in the women's team sprint, and only then because they were relegated after an irregular change.
Kenny was selected for the sprint ahead of Sir Chris Hoy in June as the British selectors left it until as late as possible to make the call. "It's not something I thought about until I went up for the last ride. It then dawned on me if Chris was there there's no way he'd lose. It was a case of then getting up and doing it."
The 24-year-old beat Bauge in the first race by getting past him in the final metres of the home straight. In the second race Kenny was in lower position on the start line and had to lead from the front. He eyeballed Bauge from the start and never took his eyes off him.
There were almost no tactics from either of them as the speed slowly ramped up. It was perfect for Kenny who posted a faster qualifying time than Bauge meaning his top speed was marginally higher.
Bauge needed to jump the 24 year old Brit, but never had the chance, and Kenny held him off. "I really enjoy what I do." Kenny said. "I don't do it or fame or money, which is just as well as I don't have any. I enjoy the lifestyle, and how it is hope to continue with that."
Like the men, the women's sprint competition looks to be going to form. If it does it will set up a Pendleton, Meares final. They have to get past Kristina Vogel and Shuang Guo respectively, but both have looked a level above in their rounds today.
London 2012: Live text coverage of cycling events
August 5: Track cycling day four
August 4: Track cycling day three
August 3: Track cycling day two
August 2: Track cycling day one
August 1: Men's and women's time trials
July 28: Men's road race
July 29: Women's road race
London 2012: Latest news
Comment: Hindes's purposeful crash - fair or foul?
New format for team pursuit explained
Pendleton and Varnish out of team sprint
'Hot pants' key to Pendleton and Hoy sprint
Britain's sprinters looking to continue GB medal haul
Wiggins: Tour was perfect Olympic TT preparation
Olympic time trial round-up
Pendleton warms up for London 2012
Cancellara in, Evans out of time trial
CW eyewitness: Remember the name
Cavendish finds solace in commitment of his team mates
London 2012: Team info
Men's road race start list
Women's road race start list
Men's time trial start list
Women's time trial start list
Team GB rider profiles
Great Britain track team confirmed
Bronzini leads Italian Olympic cycling team
British Olympic men's road race team announced
Armitstead and Cooke lead GB women's road cycling team
London 2012: Event guides
Olympic Games men's time trial: Who will win?
Olympic Games women's time trial: Who will win?
Olympic time trial routes announced
Olympic Games women's road race: Who will win?
Olympic Games men's road race: Who will win?
Download detailed Olympic road race route map
London 2012 cycling schedule
London 2012: Reports
Bronze for Clancy while Pendleton marches on
Pendleton sets new Olympic record to qualify ahead of Meares
Trott, King and Rowsell keep gold medals coming
Kenny lights up a stuttering men's sprint competition
Track day two: Pendleton and team pursuiters deliver more gold
Track cycling day one: Hoy leads team sprinters to gold
Wiggins wins gold in men's time trial, bronze for Froome
Armstrong defends Olympic title in women's time trial
Cycling events medal table
Women's road race: Armitstead wins silver as Vos strikes gold
Men's road race: Vinokourov wins as Cavendish misses out
London 2012: Photos
Track day four evening session by Andy Jones
Track day four evening session by Graham Watson
Track day four morning session by Andy Jones
Track day four morning session by Phil O'Connor
Track day three evening session by Andy Jones
Track day three evening session by Phil O'Connor
Track day three morning session by Andy Jones
Track day two by Phil O'Connor
Track day two by Graham Watson
Track day one by Andy Jones
Track day one by Phil O'Connor
Track day one by Graham Watson
Men's time trial by Graham Watson
Women's time trial by Graham Watson
Pendleton track training
Women's road race by Andy Jones
Women's road race by Graham Watson
Men's road race by Andy Jones
Men's road race by Phil O'Connor
Men's road race by Graham Watson
Team GB road race training on Box Hill (July 26)
London 2012: Podcasts
Cycling Weekly podcasts on Soundcloud
London 2012: TV schedule
London 2012 BBC TV cycling coverage schedule
London 2012 Eurosport cycling coverage schedule
Related links
CW's dummies' guide to track racing
World's best BMXers in London 2012 test event
Olympic road race test event: Report card
Cavendish wins London-Surrey Cycle Classic
London-Surrey Cycle Classic photo gallery
Olympic road race route officially revealed
London 2012 tickets on sale from March