London 2012 velodrome track finished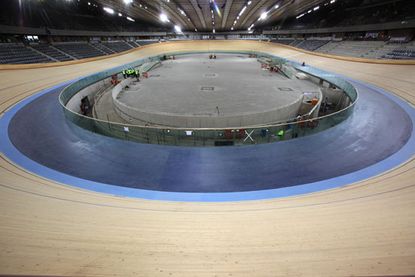 The track in the 2012 Olympic Games velodrome in London has been completed, with 90 per cent of the work now finished on the velodrome structure - the first of the Olympic venues scheduled for completion in early 2011.
International Olympic Committee co-ordination commission chairman Denis Oswald visited the velodrome on Thursday to see how the venue is progressing and appeared pleased with what he saw. Oswald was accompanied by Sebastian Coe of the London 2012 organising committee and two local riders.
"Every visit to the Olympic Park provides us with yet another impressive sign of the progress that is being made here and today's visit is no exception," said Oswald.
"As an amateur cyclist, it's fantastic to see the finished track in London's new Velodrome. I'm sure that athletes like Chris Hoy will love competing here in 2012 and that future generations of cyclists, like the two youngsters with us today, will be inspired to continue cycling thanks to the quality of the facilities that will be available to them in legacy."
The venue accommodates seating for 6,000 spectators. After the games it will be used as a race venue for elite riders and local people. The facility will include a café, cycle repair workshop and cycle hire.
Designers of the facility have attempted to create the fastest track in the world by carefully setting the geometry of the Siberian pine loop. Temperature and humidity inside the velodrome will be carefully controlled for optimum cycling conditions. It is hoped that track cycling records will tumble during the London 2012 Games and when during its use as a legacy venue.
Mayor of London Boris Johnson commented: "As the finishing line is painted on the magnificent new Velodrome track, it signals we are well on schedule to deliver a fantastic Games in 2012.
"Providing a lasting legacy is our overriding vision for the London Games and the Velodrome will be an essential part of that. With the cycling revolution currently gripping the capital, I hope this new flagship facility will encourage many more to watch or take up this exciting sport helping to make London the best cycling city in the world."
London 2012 velodrome facts
* Contains seating for 6,000 spectators
* Concourse levels offers 360 degree viewing gallery
* 2,500 sections of steelwork were used to create the velodrome framework
* The velodrome roof uses 16km of steel cable
* The Siberian pine track was fixed in place with 300,000 nails
* 26 specialist carpenters installed the track
Related links
Sport minister visits London 2012 cyclists in Manchester
London 2012 velodrome nears completion
Thank you for reading 20 articles this month* Join now for unlimited access
Enjoy your first month for just £1 / $1 / €1
*Read 5 free articles per month without a subscription
Join now for unlimited access
Try first month for just £1 / $1 / €1