Newton unsure about London Olympics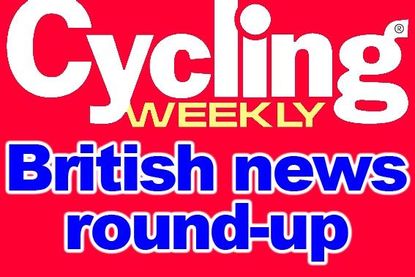 NEWTON UNSURE ABOUT LONDON 2012
On the back of his second consecutive national track titles in the points and scratch race, against considerably younger opposition, Chris Newton was coy about whether he plans to continue riding until London 2012.
"It's difficult for me because the points race is up for exclusion from the Olympics along with the pursuit and the Madison," the 2002 world champion explained.
However, the omnium could prove another option for the 36-year-old. "I think if I put my mind to it and do a bit of decent kilo training, I could fight quite well for the place [on the team]," he explained.
As for the short-term, Newton will be competing in the points race in this week's Manchester World Cup, aiming to do as well as possible to earn qualification for the World Championships.


Above: Newton celebrates his scratch race win at the National Championships
MAYOR OF LONDON'S AMBITIOUS PLANS FOR CYCLING IN LONDON
Anyone who follows the PR-glossed news that flows from City Hall will be well acquainted with Boris Johnson's cycling manifestations, but it seems the Mayor of London may have struck the right chord with his new plans to increase cycling safety in the capital.
A major aim of the plan is to reduce the number of cyclists injured or killed by collisions with goods vehicles. The Mayor is calling on freight companies operating in the capital who are exempt from fitting side guards on their vehicles to fit them or other safety devices.
New research has revealed that fitting guards, which run along the side of the vehicle, might have contributed to preventing the deaths of 15 out of 23 cyclists killed by a collision with a large vehicle moving to a left lane or turning left in London between 2001 and 2006.
Accompanied by a cycle safety campaign, the Mayor is also championing an 'Exchanging Places' scheme where lorry drivers will have cycle training to see the road from a cyclist's perspective and vice versa.
With a nine per cent increase in cycling on London's streets since the Mayor's election, he wrote to the Transport Secretary to highlight his safety plan and areas where the Government could work alongside the Mayor to improve cyclists' safety.
"Cycling in London is safer now than it was a decade ago," said Johnson.
"But with so many potential pelotons of new cyclists taking to our roads it is imperative that we take action now to ensure that they can cycle safely. I know as well as anyone the dangers of cycling alongside an HGV; and I want to work with the Government, freight companies and anyone else who can help to make cycling safer for everyone."
A new report from TfL shows that the most common type of cyclist fatality in London between 2001 and 2006 involved a large vehicle changing lanes to the left or turning left.
The Mayor has asked the Transport Secretary to revoke the exemption for construction vehicles to fit side-guards as this could save cyclists' lives. He has also called for a change in the law so that all HGVs over 3.5 tonnes, regardless of their age, should have additional safety mirrors retrofitted.The Mayor and TfL are also calling for more people to sign up for the free cycle training that is available to adults and children through London's borough councils.
More details can be found via www.tfl.gov.uk/cycling
SUSTRANS' NEW LONDON STRATEGY
Sustrans has unveiled its new London Strategy, designed to get more new people involved in the sport, particularly women and young people. It is to be run in close concordance with the Mayor's above plans for cycling expansion.
Sustrans' London Regional director Carl Pittam commented: "We are glad to see that the Mayor's Transport Strategy includes draft proposals to deliver safe cycle routes, to support school cycle training, and to influence travel choices through 'smarter travel' initiatives."
The Sustrans London Strategy also has a range of programmes to increase the number of people riding in the capital, including an expansion of London's current Greenways (quiet routes to and from green areas), making the Bike It scheme available to all London borough schools by 2013 and added support for households.
To view a copy of the strategy, visit www.sustrans.org.uk
PARACYCLING LINE-UP RELEASED FOR WORLD CHAMPS
British Cycling announced the squad of fifteen riders that will be competing in the upcoming Paracycling Track World Championships in Manchester November 6-8.
The team comprises current World and Paralympic champions including Jody Cundy and Sarah Storey, plus some new talent, namely Lora Turnham and Neil Fachie.
Gareth Sheppard, Performance Manager for Para-Cycling, commented: "We are very excited with the blend of the team and looking forward to our first opportunity to compete on home soil since the Paralympic World Cup in May where we broke several world records. Now we have selected our team we are heading to the velodrome in Newport to fine tune our preparations."
This is the first time that Manchester has played host to the event, rounding off an autumn of world class track cycling events in Manchester, with the National Track Championships and Track World Cup Classic also taking place at the velodrome.
JUNIOR HILL-CLIMB WINNER CORRECTED
Although he was awarded the jersey and trophy on the day, 18-year-old Mike Cuming was not the junior winner of the national hill-climb in Stocksbridge on Sunday. That accolade should have gone to Laurie Brooking of Buxton CC, who is now correctly listed as the junior national hill-climb champion of 2009.
BICYCLE ART EXHIBITION
Kings of the Road cycle paintings are exhibiting a range of Tour de France-inspired paintings in Belfast at the moment.
The paintings can be seen at Bikedock in Belfast until November 9.
See www.bikedock.com for more
Thank you for reading 20 articles this month* Join now for unlimited access
Enjoy your first month for just £1 / $1 / €1
*Read 5 free articles per month without a subscription
Join now for unlimited access
Try first month for just £1 / $1 / €1