'One of the biggest injustices in sport': Alberto Contador still angry at doping ban and loss of Grand Tour titles
Spaniard still resents being stripped of 2010 Tour de France and 2011 Giro d'Italia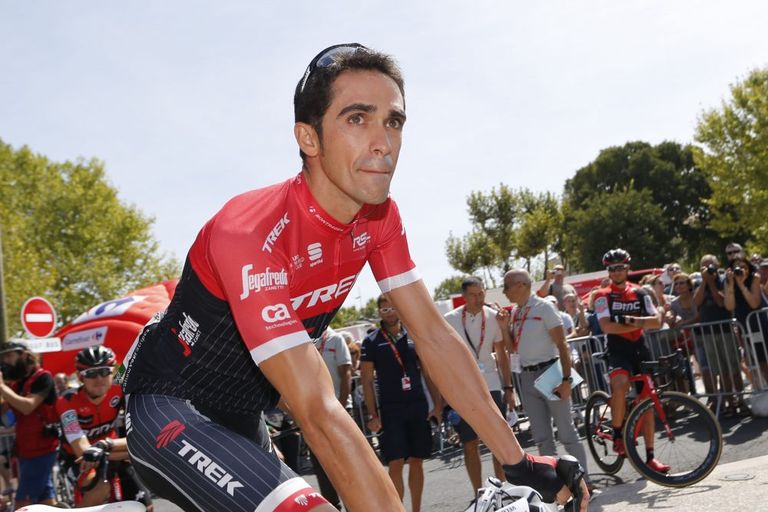 (Image credit: Yuzuru Sunada)
Drawing a close on a glittering career that saw him win seven Grand Tour titles, Alberto Contador is still bitter about the doping ban which saw him stripped of two more Grand Tour victories at the 2010 Tour de France and 2011 Giro d'Italia.
After a protracted legal case, the Spanish rider was banned in 2012 for testing positive for clenbuterol at the 2010 Tour, stripping him of that victory and his subsequent pink jersey at the Giro.
Contador denied doping, claiming that the banned substance had entered his system after he had eaten a contaminated steak of the second rest day of the Tour, but was banned for two years as a result of a decision by the Court of Arbitration for Sport.
>>> Alberto Contador: 'I could have raced for two more years'
In an interview with Spanish radio two weeks after completing his final professional race at the Vuelta a España, the 34-year-old continued to protest his innocence and describe the injustice which he felt had been committed against him.
"It is a tremendous injustice," Contador said, as reported by AS. "What stays with me most are the feelings of the people who saw those races [the 2010 Tour and 2011 Giro], what they enjoyed of them, the way I worked to achieve them, and the way I achieved them.
"I don't give importance to what might appear on paper; it is about my own feeling. It's something I'm going to have for my whole life.
"But it will not change anything and the people that have shown interest know that it is one of the biggest injustices that has happened in sport."
>>> Alberto Contador greeted by huge crown chanting 'one more year' as he returns home after Vuelta
Contador also confirmed that he made the decision to retire while competing at this year's Tour de France, more specifically on the road to Chambéry on stage nine where he suffered two crashes.
"Before the Tour I had very good numbers and we thought I could compete until the 2018 Tour. But on the ninth stage to Chambéry I had two falls which took my out of the GC... that day I made the decision to retire."
Despite saying that he has not ridden a bike since the end of the Vuelta, Contador is set to make one more appearance in Trek-Segafredo kit, taking part in a criterium at the Japan Cup next month.