Scorching temperatures of more than 40ºC lead to shortening of races at Australian National Championships
Under-19 and under-23 races affected by heat, but elite races likely to continue as planned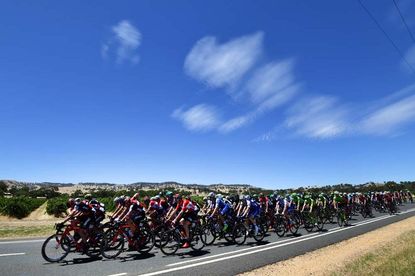 (Image credit: Graham Watson)
While those of us in the UK suffer through months of rain and single-figure temperatures, organisers of the Australian National Road Championships are having to deal with condition at the other end of the scale.
With races taking place in Ballarat, Victoria all week, organisers of the event have taken the decision to shorten some of the races which are due to take place on Saturday, with temperatures of up to 41ºC scheduled for mid-afternoon.
>>> Bike racing is back: First national champions of 2018 crowned in Australia (video)
The three races which will be affected by the change are the men's and women's under-19 road races, and the men's under-23 road race, all of which will be shortened in length with both of the men's races also rescheduled to earlier in the day.
The women's under-19 road race will be shortened from 69.9km to 58km, the men's under-19 road race from 104.4km to 70km, and the men's under-23 road race from 139.2km to 92.8km. The men's under-19 race will concurrently with the women's race, starting at 6.30am and 6.35am respectively, while the under-23 riders will start at 9.00am rather than 15.00pm to avoid the afternoon heat.
Watch: How Team Sky cope with the heat at the Tour Down Under
However with temperatures expected to be cooler on Sunday with a maximum temperature of a relatively chilly 26ºC, the road races for the elite men, elite women, and under-23 women are unlikely be affected.
This is far from the first time that races in Australia have had to be altered due to high temperatures in the interest of the safety of riders and fans.
The opening stage of the 2017 Tour Down Under was shortened from 145km to just 118.5km after riders held discussions with commissaires as temperatures hit nearly 50ºC in South Australia.
Thank you for reading 20 articles this month* Join now for unlimited access
Enjoy your first month for just £1 / $1 / €1
*Read 5 free articles per month without a subscription
Join now for unlimited access
Try first month for just £1 / $1 / €1