Tom Stewart and Alice Barnes win in the Lincoln Grand Prix (videos/photos)
Tom Stewart of Madison-Genesis emerges victorious in men's race as Alice Barnes leads a Drops Cycling 1-2-3 in the women's event - Photos by Andy Jones | Videos by British Cycling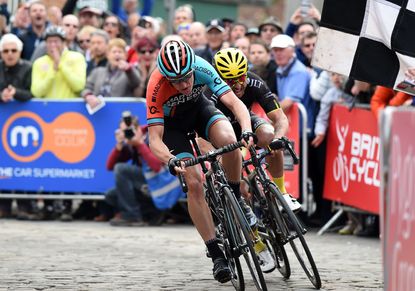 (Image credit: Andy Jones)
Tom Stewart (Madison-Genesis) and Alice Barnes (Drops Cycling) were crowned 2016 Lincoln Grand Prix winners on Sunday.
Stewart just pipped four-time Lincoln GP winner Russell Downing (JLT Condor) to the line after the pair had been in the day's escape group.
Ian Bibby (NFTO) completed the podium in third place.
The men's Lincoln GP was the final round of the British Cycling Spring Cup, which was won overall by Adria Moreno Sala (Raleigh GAC).
>>> Four-time winner Russell Downing headlines strong Lincoln GP startlist
Prior to the men's race, the first ever women's Lincoln GP took place and was dominated by the Drops Cycling team, whose riders filled all three podium positions.
Barnes emerged victorious after attacking from an eight-rider lead group on the final steep climb of Michaelgate. Her team's success was then bolstered as Rebecca Durrell and Laura Massey came home for second and third.
The race included the junior women's road race championship, with Ellie Dickinson (Drops Cycling) taking the title after placing eighth in the elite event.
https://www.youtube.com/watch?v=SpFODLgJns4
https://www.youtube.com/watch?v=Yzpn2NvPk9U
Results
Lincoln Grand Prix, men
1. Tom Stewart (Madison Genesis)
2. Russell Downing (JLT Condor)
3. Ian Bibby (NFTO)
Lincoln Grand Prix, women
1. Alice Barnes (Drops Cycling)
2. Rebecca Durrell (Drops Cycling)
3. Laura Massey (Drops Cycling)
Thank you for reading 5 articles this month* Join now for unlimited access
Enjoy your first month for just £1 / $1 / €1
*Read 5 free articles per month without a subscription
Join now for unlimited access
Try first month for just £1 / $1 / €1