Andrew Talansky hunting for podium position at Tour de France
American Tour de France hope Andrew Talansky says it'll be hard to place in front of Froome, Contador and Nibali, but that won't stop him trying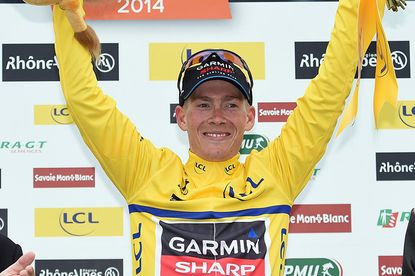 (Image credit: Watson)
After upping his contract for two years, Garmin-Sharp is putting its entire weight behind American Andrew Talansky in the 2014 Tour de France instead of spreading itself thin.
"This year we are tightening it up considerably, our race strategy very singular, focused on Talansky to obtain the highest possible place in the GC," Garmin-Sharp team boss, Jonathan Vaughters said.
"The focus of these nine guys is trying to get Andrew in the best place possible by the time the race reaches Paris."
The race leaves from Leeds tomorrow, spends three days in England and travels to France on Monday. Already, the 25-year-old from Miami has proven worthy to lead the American team.
Two weeks ago, he overthrew Chris Froome (Sky) and Alberto Contador (Tinkoff-Saxo) to win the Critérium du Dauphiné. The important Tour de France build up race was won by Bradley Wiggins in 2012 and Froome in 2013 – both went on to win the Tour de France the following month.
Talansky placed second to Nairo Quintana in the 2010 Tour de L'Avenir, second to Wiggins in the 2012 Tour de Romandie, seventh in that year's Vuelta a España and second to Richie Porte in Paris-Nice last year.
"Jonathan Vaughters has been building a team to support me," Talansky said. "I had opportunities that I wouldn't have had anywhere else, to lead the team at the Vuelta, the Paris-Nice last year, to have that opportunity at the Dauphiné last month."
Last month, Talansky told Cycling Weekly that he could not hope to topple proven Tour de France winners like Froome and Contador. He said that even Vincenzo Nibali (Astana) would be hard to catch and that fourth place would be the highest possible place for him in this year's Tour. However, days later, he won the Dauphiné and changed many followers' perspectives.
"Last year was my first Tour de France, it lived up to the hype. Mentally and physically it proved to be one of the hardest races in the world. I have a good idea of how much it'll hurt over the course of three weeks. It won't be so much of a shock going to the mountains and into the second week," Talansky said.
"In the Dauphiné as a team we learnt anything can happen. You don't have to be the best rider in the race, but have a little bit of luck, the legs and the right plan.
"It'd be presumptuous to come here and say you're here to win the Tour unless your name is Chris Froome or Alberto Contador. What that place is going to be might be 10th or first, but we are going to have to wait until Paris to see."
Talansky appears to be carrying the team's torch much further than Paris. Vaughters announced that he re-signed Talansky for two more years, through 2016, and that he is working on a sponsor to replace Garmin. He added that he wants to help Talansky not just this year, but in many more of editions of the Tour de France.
Thank you for reading 20 articles this month* Join now for unlimited access
Enjoy your first month for just £1 / $1 / €1
*Read 5 free articles per month without a subscription
Join now for unlimited access
Try first month for just £1 / $1 / €1