Brian Robinson recovering after collision with car
Britain's first Tour de France stage winner Brian Robinson sustains broken collarbone, six broken ribs, a punctured lung and a serious cut to his arm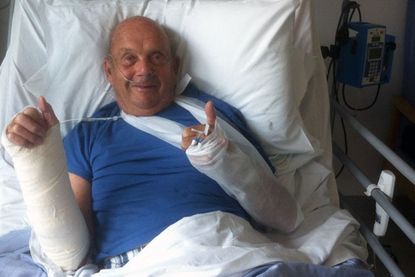 Brian Robinson, the first ever British winner of a stage in the Tour de France, was injured in a collision with a car while out cycling with friends on Wednesday.
Robinson, who is 83 and a Yorkshireman from Mirfield near Leeds, was the highest-profile ambassador of the recent Tour de France Grand Depart, but although many media demands and a good few social engagements took up most of his spare time, he carried on riding twice a week. It was on one of those rides with close friends that the accident happened.
His son-in-law Martyn Bolt, a local councillor in Mirfield and former mayor of Kirklees says: "He was descending a road when the collision with a car happened. He was quite shaken up but he was taken straight to Pinderfields hospital in Wakefield. The police are investigating the incident."
Robinson sustained a broken collarbone, six broken ribs, a punctured lung and a serious cut to his arm, as well as lots of other bumps and bruises. It's not known how long he will be in hospital.
Remarkably though, being as it's the archetypal cycling injury, Robinson has never suffered a broken collar bone. He broke his wrist once and has had other crash-related injuries, but reflecting on his latest he told me; "I feel that I'm finally a cyclist now that I've had a broken collar bone. I've joined the club at last."
The success of the Grand Depart and Robinson's recent high profile meant his accident was mentioned on BBC Radio 4 national news this morning, as well as featuring in many other bulletins throughout the day. A news crew is currently stationed outside his hospital, and has been there all day, waiting for updates. It's a far cry from the media reception he got when he won Britain's first Tour de France stage.
"By the time I got back from Europe that year the papers had forgotten it happened," he says.
Robinson has been riding an electric bike in recent months, and like every injured cyclist he's already itching to get back riding.
"I don't know how long I'll be off, but I've been wondering if there are lighter electric bikes than the one I've got now. It's also limited to 45 miles, and I would like to be going further," he says.
That kind of indomitable spirit wins stages in Tour de France, and once you've got it you never lose it. Brian Robinson is living proof of that.
Britain's first Tour de France stage winner, Brian Robinson, 83, in collision with car whilst out cycling
Thank you for reading 20 articles this month* Join now for unlimited access
Enjoy your first month for just £1 / $1 / €1
*Read 5 free articles per month without a subscription
Join now for unlimited access
Try first month for just £1 / $1 / €1