Cervélo unveils its new Tour de France jersey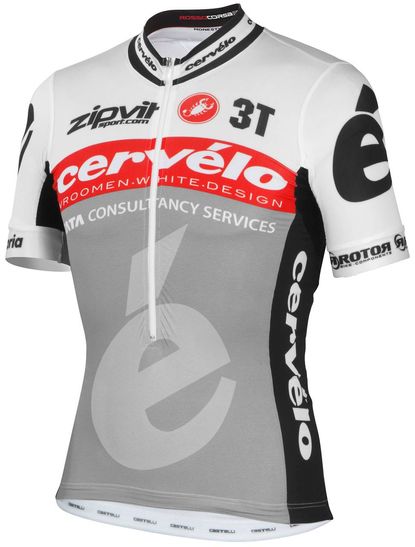 Cervélo Test Team has revealed the jersey its riders will wear in the Tour de France.
The predominantly black jersey the team has worn this season will be replaced for the Tour with this white, grey and black design, which features a red stripe.
"The styling is sensational," said Joop Alberda, the team's general manager – although he would of course say that because he's biased.
"The riders will definitely turn heads. The new kit will make its debut at the team presentation for the Tour [in Rotterdam] on Thursday, July 1."
It's the second time Cervélo has revealed a new jersey for the Tour. Last year they rode in black until July, when they switched to white.
The Castelli-made jersey will also be available to purchase in early July.
CW's first impressions? Grey isn't the most exciting colour but this jersey is smart and distinctive. If the red band continues round the back (it's impossible to tell from the promo shots Cervélo has sent out) they'll be very easy for television viewers to pick out from the helicopter shots.
The big question is... what colour are the shorts? If they're not black, the overall effect could be a disaster. Light grey shorts would be very, very bad. UPDATED Now Cervélo has added a picture of the shorts to its website, we can see they are predominantly light grey with black panels at the side.
Yesterday, Cervélo named its 12-rider long list for the Tour de France. Britain's Jeremy Hunt and Daniel Lloyd were named alongside Thor Hushovd, last year's green jersey winner, Carlos Sastre, the 2008 champion, and Heinrich Haussler, who won a stage in 2009. The final nine-man team will be named after the National Championships weekend.
Let us know what you think of the jersey? Hit or miss?
Thank you for reading 20 articles this month* Join now for unlimited access
Enjoy your first month for just £1 / $1 / €1
*Read 5 free articles per month without a subscription
Join now for unlimited access
Try first month for just £1 / $1 / €1