Chris Froome says he might not ride Tour de France 2015
Team Sky rider suggests Giro and Vuelta could be the priorities for 2015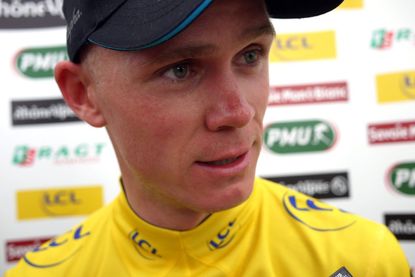 (Image credit: Gregor Brown)
Chris Froome has surprisingly suggested he may skip the Tour de France in 2015, instead prioritising the Giro d'Italia and the Vuelta d'Espana.
Following the announcement of the 2015 Tour route, the Team Sky leader said in a statement on his website: "The team and I will have to give it some careful consideration before we make any commitments to which of the grand tours I will compete in. I see myself as quite a balanced GC rider and the Giro with its inclusion of a long TT of 60km and tough uphill finishes will make it a well balanced race which suits me well. If I did the Giro I may also be able to get myself back to top shape for the Vuelta and go there with a realistic chance of aiming for the win."
Froome suggested that seriously competing in two Grand Tours would be a step up for him in comparison to previous seasons.
"In the past I've only targeted one grand tour each season but it could be a good opportunity for me to focus seriously on two. It's still early days though and we'll have to sit down and put our heads together as a team to work out what 2015 is going to look like for us."
The 2015 edition of the Tour is light on time trials, with just one 13.7km stage scheduled and one team time trial. Froome put at least a minute into his biggest rivals on the pan-flat stage to Mont-Saint-Michel in 2013, and over three in Nairo Quintana's case.
"There's no two ways about it, next year's Tour is going to be about the mountains," said Froome. "There's very little emphasis on time trialling, which means the race will be decided up in the high mountains. With six mountaintop finishes it is going to be an aggressive and massively demanding race."
As for the inclusion of cobbles on stage five of the 2015 Tour, Froome refused to concede that will be at a disadvantage. "I actually quite enjoy the challenge of riding on the cobbles. It's a difficult and stressful obstacle for us to overcome when it's part of a race like the Tour de France, but we're all in the same boat and there's no reason why I'd be any worse off than any of the other GC contenders.
"The cobbles were not the cause of my departure from the Tour this year, it was the crash on the previous stage which could have happened to anybody. I was in the wrong place at the wrong time".
More on the 2015 Tour de France
Take a look at every stage of the route of the 2015 Tour de France
Thank you for reading 20 articles this month* Join now for unlimited access
Enjoy your first month for just £1 / $1 / €1
*Read 5 free articles per month without a subscription
Join now for unlimited access
Try first month for just £1 / $1 / €1