Classics focus has cost Tyler Farrar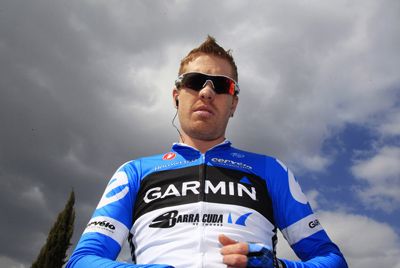 Tyler Farrar's decision to focus on the classics this season was a "mistake" that has contributed to his dry run according to trade team Garmin-Sharp sports director Allan Peiper.
Farrar is a protected rider of the USA squad that will compete in Saturday's Olympic Games road race although how much of an impact he will have on it is unknown.
The 28 year old if nothing else showed grit during the Tour de France this month, which he finished despite crashing four times within the space of a week.
Farrar makes his Olympic debut in London this weekend with a relatively youthful five-man USA squad including Taylor Phinney, 22, Tejay van Garderen, 23, Timmy Duggan, 29, and Chris Horner, 40.
It's been more than a year since Farrar celebrated an individual stage victory - an emphatic and emotional one at the 2011 Tour de France that he dedicated to friend Wouter Weylandt, who tragically passed in a high-speed crash that year at the Giro d'Italia.
"He started off the year riding really well, focused on the classsics, which give or take was a mistake or not because he's a sprinter," Peiper told Cycling Weekly.
"He wanted to do it once in his life and he rode well there but not well enough to show that he could be a force in the classics. Probably through that he missed a stage earlier on in Qatar or Oman or even Tirreno where his lead-out train was going really well but he wasn't. Then he crashed out in the Giro, crashed four times in the first week of the Tour so it's been a little bit of an unfair time for him.
"He's not under pressure from us to get results, not from me anyway. I can put things into perspective about where he has come from. I find it a pity that he let a lot of possible stage wins go - Qatar, Oman and Tirreno - but I understand riders want to see what they can do in other areas.
"There are some things he needs to work on with his concentration, with his application of being a sprinter again and getting his confidence back after all these crashes. We've got confidence in him that he can come back and that's the main thing."
Farrar has been with Garmin since 2008 and has a contract with the American-based outfit next season. He figured in the top three of nearly all of the stage races he started before the Giro but has not been in the mix since crashing out of the first Grand Tour of the season.
"He's got to go back to sprinting and make that his main focus but I think the big thing is that he can get his confidence back," Peiper said.
"It's been a year since he had a win but having said that since the Giro last year it's been a tough trot for him. I think he needs to take a little bit of restock in some other areas."
The 250km men's Olympic Games road race starts on The Mall at 10.00am on Saturday.
Related links:
Fourth Tour crash for Farrar
Thank you for reading 20 articles this month* Join now for unlimited access
Enjoy your first month for just £1 / $1 / €1
*Read 5 free articles per month without a subscription
Join now for unlimited access
Try first month for just £1 / $1 / €1