Name these 10 yellow jersey wearers from the 70s
This year's Tour de France has already seen four yellow jersey wearers, but how many carriers of the maillot jaune from the 1970s can you name?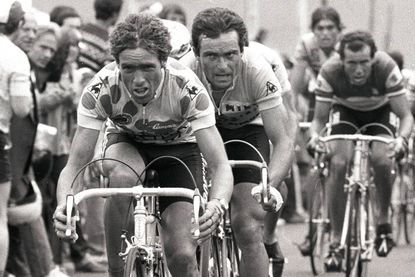 (Image credit: Graham Watson)
The 102nd Tour de France is coming to the end of its first week, and already we have seen a number of yellow jersey wearers.
Unfortunately, we have also seen something of a curse of the maillot jaune as both Fabian Cancellara and Tony Martin have crashed out of the race whilst wearing the coveted jersey.
This first week has already seen more race leaders than entire editions of the race got in the 1970s, but we've gone through the archives to find those riders who had the honour of leading cycling's biggest race.
To make things harder, some of the riders are seen long after their retirement from top-level sport, and only one of them is actually wearing the yellow jersey in the given photograph. One of the riders is even seen doing cyclocross, to really confuse matters.
Of the 10 jersey wearers shown, see how many you can correctly identify?
Photographs by Graham Watson and Yuzuru Sunada
Thank you for reading 20 articles this month* Join now for unlimited access
Enjoy your first month for just £1 / $1 / €1
*Read 5 free articles per month without a subscription
Join now for unlimited access
Try first month for just £1 / $1 / €1