Dave Brailsford: 'I wouldn't be surprised if Fabio Aru lost the yellow jersey on purpose'
Team Sky boss delighted to have yellow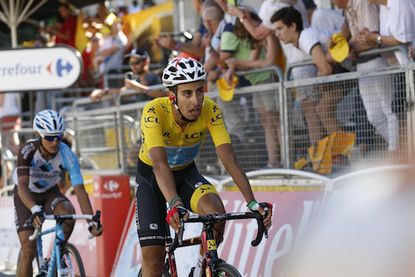 (Image credit: Yuzuru Sunada)
In the aftermath of the frantic finale of the stage into Rodez, which saw Chris Froome retake the yellow jersey from Fabio Aru, the atmosphere around the Team Sky bus was a mixture of delight at seeing a tactical plan work to perfection and disbelief at the amount of time the Italian ceded – a substantial 24 seconds, giving Froome the lead by 18.
Sky boss Dave Brailsford acknowledged that both the Rodez stage and the previous one into Foix had gone perfectly for the team, but also admitted that their plans may have been assisted by Aru.
>>> Chris Froome: 'I never dreamt I'd take 24 seconds out of Aru'
"It wouldn't surprise me if he had let the yellow jersey go to take the pressure off himself and his team," Brailsford told reporters in Rodez.
"But, having said that, I don't suppose he wanted to lose the amount of time he did."
Watch: Tour de France stage 14 highlights
Speaking to NBC Sports directly after the finish, his Astana teammate Michael Valgren explained that he had tried to lead Aru up through the bunch before it reached the tricky uphill finale. Valgren added that the Italian kept losing his wheel.
>>> Fabio Aru on losing Tour de France lead: 'I paid for being in a bad position'
Valgren then asked the reporter if Aru had lost the lead. When told he had, the Dane said "good" and smiled broadly. However writing on Twitter after the race, Valgren clarified his comments after some took them as a slight at team leader Aru.
Aru and members of the Astana management team dodged questions of whether they had pulled off a tactical coup of their own. The Italian admitted he had been poorly positioned but stressed that there are still plenty of opportunities for him to strike back.
With the pressure now back on Froome and Sky to do control the race, Aru can now focus on following their wheels and biding his time until an opportunity to gain significant time on the British race leader emerges.
Thank you for reading 10 articles this month* Join now for unlimited access
Enjoy your first month for just £1 / $1 / €1
*Read 5 free articles per month without a subscription
Join now for unlimited access
Try first month for just £1 / $1 / €1
Peter Cossins has been writing about professional cycling since 1993, with his reporting appearing in numerous publications and websites including Cycling Weekly, Cycle Sport and Procycling - which he edited from 2006 to 2009. Peter is the author of several books on cycling - The Monuments, his history of cycling's five greatest one-day Classic races, was published in 2014, followed in 2015 by Alpe d'Huez, an appraisal of cycling's greatest climb. Yellow Jersey - his celebration of the iconic Tour de France winner's jersey won the 2020 Telegraph Sports Book Awards Cycling Book of the Year Award.