David Millar's Tour de France exclusion was a 'hard call'
Garmin-Sharp team boss Jonathan Vaughters talks about non-selection of Scot David Millar for Tour's British Grand Depart - Millar likely to ride Vuelta a Espana and Tour of Britain in final season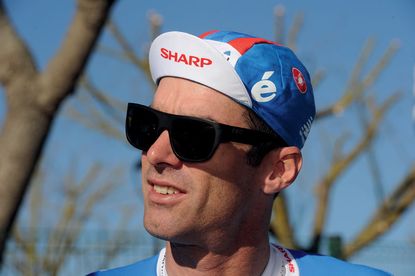 Garmin-Sharp general manager, Jonathan Vaughters said that it was a "hard call" to exclude David Millar from the Tour de France team in his last season.
"That's why we took so long to make the call," Vaughters said in a team press conference today in Leeds' outskirts. "He was on the list after the Tour de Suisse but with the caveat that we wanted everyone on it to be healthy."
Millar suffered from a cough and needed antibiotics ahead of the British National Championships last weekend and performed poorly. Sports Director Charly Wegelius told Vaughters of Millar's condition and they had to re-work their nine-man Tour de France roster so that it was its best for classification rider Andrew Talansky.
"Being 100% healthy applies to everyone," Vaughters added. "We decided to wait and see if his health would return, but the results [from the championships] weren't very helpful. It was a last-minute decision to pull him. It wasn't fun for Charly, me or anyone."
Millar said that he was surprised by the call. He wrote on Twitter on Monday: "For the record, I was going to be ready for the Tour, so sad my team didn't believe in me, after everything we've been through. Not cool."
The 37-year-old Scot helped the US team step into the top ranks when he signed in 2008. Without the Tour this year, his retirement appears closer than ever as he already announced that 2014 would be his last. Instead of racing, Millar will be commentating on the Tour with ITV 4.
"David was the first one who signed a contract with this programme when we moved to the first division, there's a lot of history and we care about David quite a bit, but the end goal is to get the best result possible in the Tour de France," said Vaughters.
"It's not over yet for him, he'll be racing at the Commonwealth Games. If he wants to ride the Vuelta a España, he has a spot, and the Tour of Britain."
Thank you for reading 20 articles this month* Join now for unlimited access
Enjoy your first month for just £1 / $1 / €1
*Read 5 free articles per month without a subscription
Join now for unlimited access
Try first month for just £1 / $1 / €1