French toasting home success in Tour de France
French riders Jean-Christophe Peraud and Thibaut Pinot occupy second and third overall after final time trial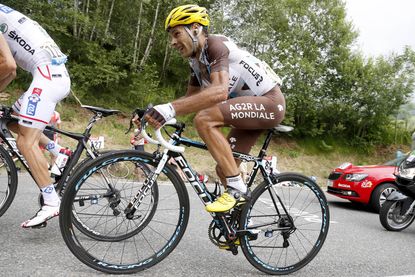 (Image credit: Graham Watson)
The Tour de France is highlighting its home riders this year and celebrating its first French podium finisher since 1997 - barring disaster on Sunday's final stage. Italian Vincenzo Nibali dominates the race, but behind Thibaut Pinot, Jean-Christophe Peraud and Romain Bardet battled for the two remaining steps.
Not just second and third overall, but future wins are up for grabs. The French could take the lessons learned this year – albeit a race without cycling's biggest stars – into 2015 and beyond. French cycling insiders say that they believe that 2014's Tour will be the building block for the years ahead.
1987 Tour winner, Stephen Roche: "These guys are top 10s yes, not podium riders yet. We can't get too crazy about it because we don't have Froome, Contador, Quintana and whoever else here at the Tour.
"It's great for their confidence, helps them get experience, but they need to stay realistic. That's the most important thing for a French cycling, which is always looking for a new Hinault or Fignon. You don't want to put them up too much. They've done a great race, but let's not forget the reality that the big tour riders are out."
Sky DS and former cyclist, Nicolas Portal: "The French guys have stepped up, but the question is how much? You need to look at the numbers, climbing times, times in time trials...
"The good thing is that they know they can do it now. For many years, in my generation, they kept asking when is the next Hinault or Fignon coming. Now they know they can do it, fight for the podium, even if the big stars are not here.
"They need to keep their feet on the ground, of course, and work on improving the staff and team around them. They need the support. The French teams shouldn't be worried about signing foreigners to work for their French leaders. It's not a problem to sign Americans, Brits or Italians. Sometimes, French teams can be a little too old school."
Cédric Vasseur, twice stage winner: "Pinot has stepped up another level. He's also gained a lot of confidence from this. Of course, it's going to be more difficult next year if the big riders are at the Tour, but they are going to take confidence from this.
"The teams need to work and build themselves around these riders, the riders need help before the climbs. Riders are out there, guys like Svein Tuft, Kanstantsin Siutsou, Vasil Kiryienka... This is still missing in French squads and the needed step for Pinot and Bardet.
"The next couple of months will be important, a time for these riders to look back and re-organise schedules. If you look at Nibali, he wasn't even going strongly in February, March and April. They have the level to play with with the big guys, they need to organise themselves and build a team around them to be more competitive."
Thank you for reading 20 articles this month* Join now for unlimited access
Enjoy your first month for just £1 / $1 / €1
*Read 5 free articles per month without a subscription
Join now for unlimited access
Try first month for just £1 / $1 / €1