Full 2009 Tour de France route details released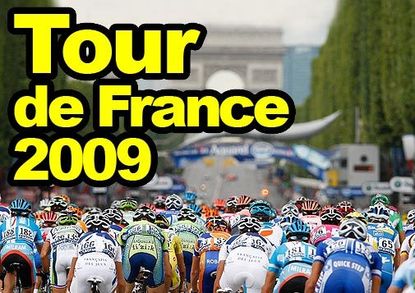 Full details of each stage of the 2009 Tour de France have been published on the race's official website today.
Tour organiser Amaury Sports Organisation provides a comprehensive breakdown of each of the 21 stages (opens in new tab) in this year's race, including estimated time schedule.
This year's Tour starts in Monaco with a 15.5km time trial on Saturday July 4 and finishes three weeks later on the Champs Elysees in Paris on Sunday July 26.
The 3,500km route comprises of 10 flat stages, eight mountain stages, two individual time trial stages and one team time trial stage. Three of the stages end with a mountain top finish.
Those taking part in the 2009 Etape du Tour (Monday, July 20) will want to study the schedule for stage 20 to Mont Ventoux to see exactly what they are letting themselves in for.
Earlier in the year we picked out which stages we think that Britain's Mark Cavendish has a chance of winning. Cycling Weekly's week-by-week guide to the 2009 Tour is in the News section
Swipe to scroll horizontally
| | | | | |
| --- | --- | --- | --- | --- |
| Stage | Date | From | To | Length |
| 1 | Saturday 4 July | Monaco | Monaco | 15.5km |
| 2 | Sunday 5 July | Monaco | Brignoles | 187km |
| 3 | Monday 6 July | Marseille | La Grande-Motte | 196.5km |
| 4 | Tuesday 7 July | Montpellier | Montpellier | 39km |
| 5 | Wednesday 8 July | Le Cap d'Agde | Perpignan | 196.5km |
| 6 | Thursday 9 July | Gérone | Barcelone | 181.5km |
| 7 | Friday 10 July | Barcelone | Andorre Arcalis | 224km |
| 8 | Saturday 11 July | Andorre-la-Vieille | Saint-Girons | 176.5km |
| 9 | Sunday 12 July | Saint-Gaudens | Tarbes | 160.5km |
| R | Monday 13 July | Rest day, Limoges | - | - |
| 10 | Tuesday 14 July | Limoges | Issoudun | 194.5km |
| 11 | Wednesday 15 July | Vatan | Saint-Fargeau | 192km |
| 12 | Thursday 16 July | Tonnerre | Vittel | 211.5km |
| 13 | Friday 17 July | Vittel | Colmar | 200km |
| 14 | Saturday 18 July | Colmar | Besançon | 199km |
| 15 | Sunday 19 July | Pontarlier | Verbier | 207.5km |
| R | Monday 20 July | Rest day, Verbier | - | - |
| 16 | Tuesday 21 July | Martigny | Bourg-Saint-Maurice | 159km |
| 17 | Wednesday 22 July | Bourg-Saint-Maurice | Le Grand-Bornand | 169.5km |
| 18 | Thursday 23 July | Annecy | Annecy | 40.5km |
| 19 | Friday 24 July | Bourgoin-Jallieu | Aubenas | 178km |
| 20 | Saturday 25 July | Montélimar | Mont Ventoux | 167km |
| 21 | Sunday 26 July | Montereau-Fault-Yonne | Paris Champs-Élysées | 164km |
EXTERNAL LINK
Tour de France official website: www.letour.com
Swipe to scroll horizontally
TOUR DE FRANCE 2009 LINKS
2009 Tour de France spectator's guide
2009 Tour de France: Week-by-week guide
Nine reasons why Mont Ventoux is a symbolic climb
Analysis: Mont Ventoux to decide the Tour
Inside the Tour: 2009 race by numbers
Etape du Tour 2009: It's the Ventoux
2009 Tour de France route stage-by-stage
Thank you for reading 10 articles this month* Join now for unlimited access
Enjoy your first month for just £1 / $1 / €1
*Read 5 free articles per month without a subscription
Join now for unlimited access
Try first month for just £1 / $1 / €1