Government calls for 2014 Yorkshire Tour de France changes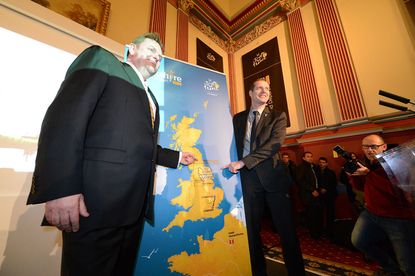 The Government has called for an 'Olympic-style delivery agency' to oversee the running of the 2014 Tour de France Grand Départ in Yorkshire after an extra £10million was announced yesterday as having been awarded to the event.
The central government funding, awarded after weeks of lobbying by the Grand Départ bid winners 'Welcome to Yorkshire' and Yorkshire MPs, will be delivered by UK Sport upon organisers making significant changes to its business plan and governance structure.
Speaking to Cycling Weekly this morning, Julian Smith, the Conservative MP for Skipton and Ripon who has been heavily involved with lobbying the Government for financial backing, explained that UK Sport had some "serious issues" with the current delivery plans for the Tour in 2014.
"The good news is we've got that commitment," he said. "The bad news is we won't get that money until the bid team, which has until now been Welcome to Yorkshire, broadens out and shows that there is a national scope to it [the bid].
"They [UK Sport] were not happy and said they wanted changes to the governance structure and business plan. I think we can get through that and I'm certainly going to be involved in making sure that now we've got the money, we give the Government the reassurance that taxpayers' money is spent as efficiently as possible."
UK Sport, as the sporting events delivery arm of the government, are the obvious custodians of government funding. They declined to comment on the news when contacted by Cycling Weekly.
Gary Verity, chief executive of Welcome to Yorkshire, said in a statement to Cycling Weekly: ''A UK wide strategic delivery group for the Grand Départ was a key component of Welcome to Yorkshire's original business plan to UK Sport.
"As the only agency in the UK with the contract to deliver the Grand Départ of the Tour de France Welcome to Yorkshire will, as it originally stated, form and chair that group and will invite representatives from UK Sport and the Department for Culture, Media and Sport (DCMS) to be a part of that."
"Current plans are not strong enough"
A report in today's Financial Times explains that the DCMS has also called for a more joined-up approach to the organisation as a condition attached to the central government backing.
"The current plans are not strong enough to deliver the world-class event we all want and expect," it said. "We would like a more joined-up approach to the organisation of the world's biggest cycle race which will ensure we maximise the benefits for Yorkshire and the other parts of England that the race will pass through."
According to BBC Leeds, there is a further twist in the tale. Sports minister Hugh Robertson originally rejected the call for government funding in a letter to Welcome to Yorkshire on Tuesday raising similar concerns to UK Sport. However Wednesday's announcement appears to suggest a change of mind in government.
Plans changed?
Welcome to Yorkshire estimated earlier this year that the total cost of the 2014 Grand Départ would be £10 million, £4 million of which was understood to cover the cost of securing the event licence from Tour organisers ASO. Leeds City Council agreed to underwrite the licence costs, with contributions from other local authorities in Yorkshire.
The additional funding was due to be secured from both private investment and further local authority countribution, in addition to central government support. It is not clear at this stage exactly how these plans will change as a result of yesterday's announcement.
Related links
Tour de France 2014: Official launch in Leeds
Yorkshire will host 2014 Tour de France Grand Depart
Emma Pooley calls for women's Tour de France
Thank you for reading 10 articles this month* Join now for unlimited access
Enjoy your first month for just £1 / $1 / €1
*Read 5 free articles per month without a subscription
Join now for unlimited access
Try first month for just £1 / $1 / €1
Richard Abraham is an award-winning writer, based in New Zealand. He has reported from major sporting events including the Tour de France and Olympic Games, and is also a part-time travel guide who has delivered luxury cycle tours and events across Europe. In 2019 he was awarded Writer of the Year at the PPA Awards.