Mark Cavendish joint seventh in all-time Tour list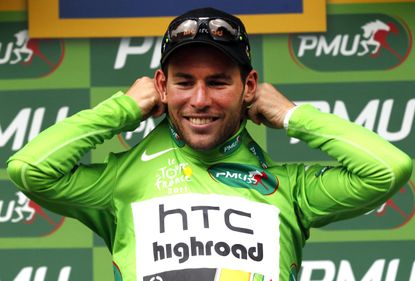 Mark Cavendish continues to climb the list of all-time Tour stage winners after taking his 19th stage win in Montpellier today.
The win puts him in equal seventh with François Faber of Luxembourg who rode the Tour between 1908-1914.
Cavendish has built up his tally in just four Tours, and with the stage in Paris also likely to be a sprint he is tipped to finish this years Tour with 20 stages in total. That would put him in equal sixth, just two behind Lance Armstrong and André Darrigade.
Eddy Merckx tops the list with 34 stage wins, Bernard Hinault is second with 28. Neither of those totals are out of reach if Cavendish continues to win at his current rate. Even if he doesn't win on the Champs Elysee this year he will finish with an average for 4.75 wins per Tour. If he continued to win at that rate he would top the all-time list before his 30th birthday.
Cavendish is the only active rider who currently features on the list.
Today's win also improved his chances of taking home the green jersey for the first time in his career. He now leads Jose Rojas by 37 points and Philippe Gilbert by 71 points.
ALL-TIME RECORD INDIVIDUAL STAGE WINNERS
Does not include team time trials
1. Eddy Merckx (Belgium) 34 stage wins 1969-1975
2. Bernard Hinault (France) 28 1978-1986
3. André Leducq (France) 25 1927-1938
4= André Darrigade (France) 22 1953-1964
4= Lance Armstrong (USA) 22 1993-2005
6. Nicolas Frantz (Luxembourg) 20 1924-1929
7= Mark Cavendish (Great Britain) 19 2008-2011
7= François Faber (Luxembourg) 19 1908-1914
9. Jean Alavoine (France) 17 1909-1923
10= Charles Pelissier (France) 16 1929-1935
10= René Le Greves (France) 16 1933-1939
10= Jacques Anquetil (France) 16 1957-1964
13. Freddy Maertens (Belgium) 15 1976-1981


POST SECOND WORLD WAR
Does not include team time trials
1. Eddy Merckx (Belgium) 34 stage wins 1969-1975
2. Bernard Hinault (France) 28 1978-1986
3= André Darrigade (France) 22 1953-1964
3= Lance Armstrong (USA) 22 1993-2005
5. Mark Cavendish (Great Britain) 19 2008-2010
6. Jacques Anquetil (France) 16 1957-1964
7= Freddy Maertens (Belgium) 15 1976-1981
Tour de France 2011: Related links
Tour de France 2011: Cycling Weekly's coverage index
Thank you for reading 20 articles this month* Join now for unlimited access
Enjoy your first month for just £1 / $1 / €1
*Read 5 free articles per month without a subscription
Join now for unlimited access
Try first month for just £1 / $1 / €1