Mountains of the 2011 Tour de France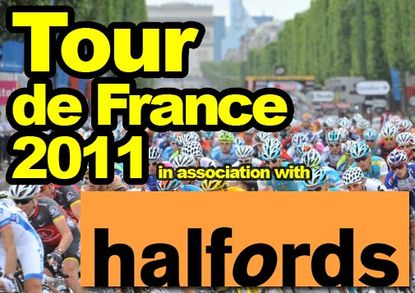 Nine of the first eleven stages of next year's Tour de France may be ones for the sprinters and escape groups, but once the race hits the mountains the riders are in for a tough second half.
There are six stages in the high mountains in the 2011 Tour; three in the Pyrenees followed quickly by three in the Alps. The first mountain climbed is La Hourquette d'Ancrizan (1,538m) on stage 12 while the last is the iconic Alpe d'Huez (1,850m) on stage 19.
The 16km climb to the ski station above Bourg d'Oisans is set to be the climax to next year's race, but that stage, at only 109km, certainly isn't the hardest.
Two stages jump out as being candidates for the Queen Stage. Stage 14 from Saint-Gaugens to Plateau de Beille has five categorised climbs in the Pyrenees and has a summit finish.
In the Alps, the stage to the top of the Col du Galibier looks like being another significant stage with three huge passes. The race goes over the Agnet at 2,744 metres, then the Izoard at 2,360 metres before climbing the Galibier (from Briançon, via Serre-Chevalier) and finishing at 2,645 metres.
In all there are 23 climbs of category two, one and hors.
Here's a run through the mountains in the 2011 Tour de France.
Stage 12: Cugnaux - Luz Ardiden 209km (Pyrenees)
La Hourquette d'Ancizan 1,538m - first appearance in the Tour de France
Le col du Tourmalet 2,115m
Luz Ardiden 1,715m
Click on profile for larger image
Stage 13: Pau - Lourdes 156km (Pyrenees)
Col d'Aubisque 1,709m
Col du Soulor 1,474m
Click on profile for larger image
Stage 14: Saint-Gaudens - Plateau de Beille 168km (Pyrenees)
Col de Portet d'Aspet 1,069m
Col de la Core 1,395m
Col de Latrape 1,110m
Col d'Agnes 1,570m
Plateau de Beille 1,780m
Click on profile for larger image
Stage 17: Gap - Pinerolo 179km (Alps)
Col de Montgenevre 1,860m
Sestriéres 2,035m
Cote de Pramartino 912m
Click on profile for larger image



Stage 18: Pinerolo - Galibier 189km (Alps)
Col Agnel 2,744m
Col d'Izoard 2,360m
Col du Galibier 2,645m
Click on profile for larger image
Stage 19: Modane - Alpe d'Huez 109km (Alps)
Col du Telégraphe 1,566m
Col du Galibier 2,556m
Alpe d'Huez 1,850m
Click on profile for larger image
Related links
Tour de France 2011 route announced
Cavendish challenging for up to eight stages in 2011
Thank you for reading 5 articles this month* Join now for unlimited access
Enjoy your first month for just £1 / $1 / €1
*Read 5 free articles per month without a subscription
Join now for unlimited access
Try first month for just £1 / $1 / €1