Muzzled Missile no more: Mark CVNDSH is back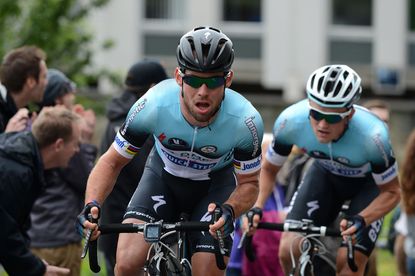 There's divided opinion on whether Mark Cavendish's revamped slogan "FST AS FCK" is crass or characteristically apt. Regardless, it's a selling point the Manxman is determined to come good on starting at Saturday's Tour de France Grand Depart.
Cavendish, in conjunction with Specialized, was in London yesterday to promote his name as a commercial brand and launch the slogan and redesigned logo "CVNDSH".
The newly crowned British road champion has an opportunity to claim the first yellow leader's jersey of the Tour with Saturday's Corsica opener a flat stage for the sprinters.
The prospect of a spell in yellow was central to media questions at yesterday's event and evidently a goal for Cavendish, who was coy on his form but appears very much in shape as perhaps his national title victory on the weekend indicates.
"It's a big, big goal and a huge motivation for a team built around stage wins," said Cavendish of the maillot jaune. "It's a strong group of sprinters this year. To get a win won't be easy, especially in the first stage of the Tour.
"History has showed it normally takes me a few days to get into a Grand Tour. Not at the Giro this year, but before that. I've altered my training to be able to go well in that first stage."
Stage wins comprise the unmistaken aim of Cavendish's Tour campaign this year after a frustrating run with team Sky in 2012.
The 28-year-old won three stages with the British outfit, which put the majority of its resources behind race winner Bradley Wiggins, but the figure represented his lowest count since a winless Tour debut in 2007 and fell short of his previous average of five.
Cavendish will return to the race this year as an outright team leader at Omega Pharma-Quick Step and with the hope that stage success, plus minimising losses in intermediate sprints, will place him in pole position for the green jersey he won in 2011 and Peter Sagan (Cannondale) barnstormed to on debut in 2012.
The former world champion avoids making bullish statements about stage dominance at the Tour out of respect to the event, so asking how many stages he believes he could win is superfluous. However, a video montage including footage of his lofty days at HTC-Highroad - with whom he won 20 of his current 23 Tour stage victories - at the launch was evidence enough of his intentions.
"There's other races that I target, but the green jersey in the Tour de France every year is what my whole career goes around," he said.
Cavendish is currently ranked fourth - as the only active rider - in the Tour de France all-time stage winners list behind Eddy Merckx (34), Bernhard Hinault (28) and Andre Leducq (25). The sprinter has previously declined to comment on the possibility of, in time, toppling Merckx except to say he'd never put his name in the same sentence as the Belgian great. But that statistic was included in product paraphernalia at the London event.
Cavendish's Wasserman management has since told Cycling Weekly that the "FST AS FCK" slogan, which was included on business cards and originally on the revamped website, will not be used on brand merchandise.
Thank you for reading 20 articles this month* Join now for unlimited access
Enjoy your first month for just £1 / $1 / €1
*Read 5 free articles per month without a subscription
Join now for unlimited access
Try first month for just £1 / $1 / €1