Nairo Quintana adds Vuelta a España to hectic 2016 schedule
Nairo Quintana will race the Tour de France, Olympic Games road race and Vuelta a España in the summer of 2016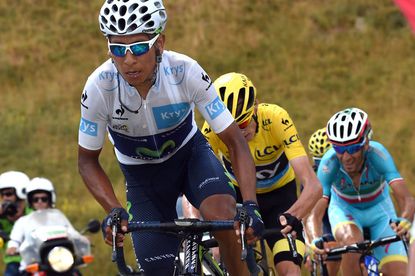 (Image credit: Watson)
Not content with challenging to win the Tour de France and Olympic Games road race, Nairo Quintana is also planning an assault at the Vuelta a España in 2016.
In an interview with Colombian newspaper El Espectador, the Movistar rider says he thinks it is possible to win both the Tour and Vuelta in the same year, even though it's not been achieved since the race moved to its late-season spot.
>>> 100 Best Riders Right Now: #9 Nairo Quintana
Quintana raced both Grand Tours in 2015, finishing second to Chris Froome at the Tour and an illness-hampered fourth at the Vuelta, but will have fewer days rest between the two races next year, with the Olympics in Rio in between.
"I know it's not easy, but you can [win both]. It is difficult and few did, but it's a challenge that I have in the future and I'm going to try [to achieve it]," he said.
"Why not dream of winning two Grand Tours? If I lose it's news and they will say: 'Nairo Quintana failed to win the two races', but it's talked about. At least I will try - there's no doubt [about that]."
Cycling Weekly's 10 Best Riders Right Now
By losing time on stages two and 10 at the Tour de France, Quintana found himself chasing seconds on Chris Froome all the way to Paris - almost overcoming the Brit in the final Alpine stages.
Finishing 1-12 behind Froome, Quintana completed his second podium at the Tour - both behind Froome - and has left the Colombian even more hungry to add a yellow jersey to his collection.
"I've been on the podium twice and that gives me faith that I can repeat that and hopefully win, I want to be the best," he added. "The Rio Olympics and the Vuelta a España are also on the agenda...but my priority is undoubtedly the Tour de France. "
Thank you for reading 20 articles this month* Join now for unlimited access
Enjoy your first month for just £1 / $1 / €1
*Read 5 free articles per month without a subscription
Join now for unlimited access
Try first month for just £1 / $1 / €1