Riders react as Tour route is confirmed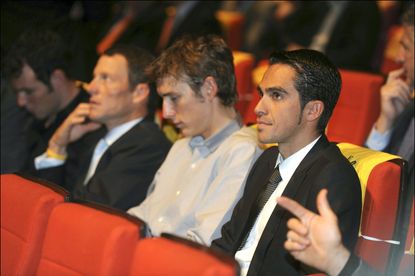 WHAT THEY SAID

Alberto Contador - defending champion. Astana, but wants to move
"I'm not the best on cobbles but I shouldn't lose too much time. I just have to avoid any crashes and hope it doesn't rain. The mountains are very interesting. There are a lot of climbs and not much time trials so it is going to favour the riders who can attack in the mountains."
Lance Armstrong – 3rd in 2009. Team Shack
"I think the key thing is there's no TTT, but a very difficult first week in the north of Europe with the wind and the cobbles. It will be nerve-wracking and difficult. I'll be close to 39 years old next year...but the competition is good and the riders are strong, it's not like it was 10 years ago. I'm excited...and we'll give it our best. It's interesting to do the Tourmalet twice, but it is an important and historical climb. The summit finish there near the end of the race keeps everyone guessing at who is going to win and keeps the riders sharp."
Andy Schleck – 2nd in 2009, Team Saxo Bank
"There is only one time trial but it's 50km so it's long enough. There's lots of climbing too, so I'll be checking out some of the climbs in the coming months. For me, last year I went to win the race. Of course Alberto is a big favourite, but don't forget Lance. I believe he can still lead, but there are five or six more guys as well."
Mark Cavendish – six stage wins in 2009
Asked what it would take to win the green jersey he said: "hopefully not get a bent barrier in the road". He added: "There are five definite sprint stages, possibly eight. Three in the first week, one in the second and one in the third. So it will be all about surviving the second and third weeks. Hopefully we've got a dominant squad and guys who are progressing massively on GC like Tony Martin, but every time there's a sprint we'll be going for the win. There are three good chances to win in the first week, so I'll try to grab as many as I can to get in the green jersey and then survive weeks two and three."
Johan Bruyneel – Astana manager, wants to move to Team Shack
"There's no surprises. It's not that important to study the route. Every year it's the same, no matter what the course is, it's always the strongest man who wins the Tour. It's a three week stage race and the strongest rider will always win. There's never been a Tour where the strongest rider hasn't won."Bruyneel on Astana and The Shack: "I feel confident that everything will be sorted out, in the interest of both teams [Astana and Team Shack] so both can be competitive and race against each other. We're making progess and I hope in the next few days it will be decided."
Thor Hushovd – one stage win and green jersey in 2009

"There are breakaway stage where I can escape and get points, not just sprint stages. I had to do something different against Cavendish this year and that's where I won the green jersey, scoring points and staying focused every day. The day into Spa has an uphill finish so maybe I can get some points against Cavendish there."
Thank you for reading 20 articles this month* Join now for unlimited access
Enjoy your first month for just £1 / $1 / €1
*Read 5 free articles per month without a subscription
Join now for unlimited access
Try first month for just £1 / $1 / €1