My ride with Chris Froome on Holme Moss
Team Cystic Fibrosis club rider Alex Jones tells Cycling Weekly about his day out riding with Team Sky's defending Tour de France champion Chris Froome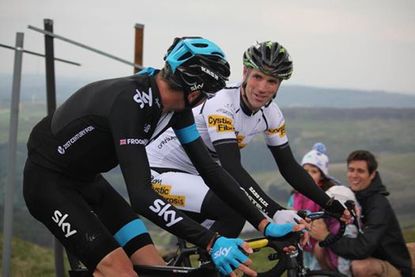 (Image credit: David Robertson)
Riding the route of the 2014 Tour de France with the defending Tour de France champion on your local roads: it's every club cyclist's dream isn't it?
"I caught up with a couple of guys I knew afterwards, and they were saying: 'it's like a competition prize, I can't believe you!'" says Alex Jones. "But I don't think I've rubbed it in people's faces too much."
Jones was one of the estimated 300 spectators and riders out on the climb of Holme Moss on Sunday ready to catch a glimpse of Chris Froome and three of his Team Sky teammates out on their reconnaissance of stage two of this year's Tour de France.
But rather than stand by and take a picture for the album he decided to do something a bit different.
"I said I'd nip down 400-500 yards and jump on and see if they'd mind me riding along with them and see if I can get some pictures for the team website," Jones adds. "As it turned out they came up, Chris was about 20 or 30 yards in front of the other riders.
"I jumped on and said: 'Hi Chris, do you mind if I ride alongside you?' And he said: 'that's fine.'
"I asked him whether he was going to stop at the top [of the climb] and he said: 'no, I'm carrying on.' So I said: 'do you mind if I ride with you,' and he said: 'no, no that's fine.'"
Jones, a local rider and occasional road racer and time triallist with Team Cystic Fibrosis, recalls descending at 45mph with his handlebars just six inches from the Tour winner's, thinking 'just hold your line, you can't bring a Tour de France champion off his bike, his brand new [Pinarello] F8.'
As they continued along the undulating road to Sheffield they chatted scenery, tactics and team selection for the Tour's upcoming visit to Yorkshire. It's becoming cliché, but can you imagine doing the same with Wayne Rooney on the turf at Wembley Stadium before he heads off to the football World Cup? Thought not.
"I pointed out that they're going to be going down the Manchester road [from Holme Moss] very fast and there's a very tight right turn to Midhopestones, which then narrows. I said: 'you're going to want to be near the front there because I think it's going to start to kick off there.'
"I said: 'this is where people are going to attack and various bits and bobs,' and he said: 'thanks for the info, I'll look out for it.'"
"I managed to get about halfway up Woodhead with them before it got a bit too grippy and I bade them farewell and rode the rest of the way home with a grin as wide as the Cheshire cat's on my face," Jones adds.
"Chris Froome was an absolute legend. He didn't have to say: 'yeah ride along,' he didn't have to sit and talk to me all the way down. So full marks for PR and what have you, in my book.
"Maybe the team kit made him think that I wasn't a total numpty and I wouldn't take him off."
Chris Froome and Sky team-mates Richie Porte, Mikel Nieve and David Lopez ride the route of stage one of the
Exclusive photos of Chris Froome, Richie Porte, Mikel Nieve and David Lopez in Yorkshire on Saturday
Thank you for reading 10 articles this month* Join now for unlimited access
Enjoy your first month for just £1 / $1 / €1
*Read 5 free articles per month without a subscription
Join now for unlimited access
Try first month for just £1 / $1 / €1
Richard Abraham is an award-winning writer, based in New Zealand. He has reported from major sporting events including the Tour de France and Olympic Games, and is also a part-time travel guide who has delivered luxury cycle tours and events across Europe. In 2019 he was awarded Writer of the Year at the PPA Awards.