Riis rules Contador out of another Tour de France win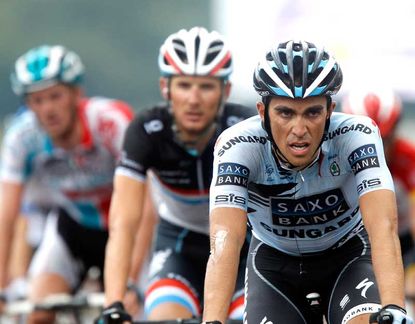 >>>Stage 18 report: Pinerolo - Serre Chavalier, Galibier
Bjarne Riis has all but written off Alberto Contador's chances of winning this year's Tour de France after the Spaniard was dropped on the upper slopes of the Col du Galibier today.
As Cadel Evans chased stage winner Andy Schleck, Contador found the pace too much and slipped out the back of the group of contenders to cheers from spectators watching on a big screen.
"To win it it's going to be hard, It's not over, but Andy is very, very strong. Hats off to him," Riis said. "I think it's difficult to come back, that's for sure, but... let's see."
"He couldn't follow, obviously. There's nothing much to say about it. I still need to talk to him. I don't know exactly what's his problem today, but he didn't have it. I believe he felt good, but in the end he obviously didn't. I don't have the answers."
As Contador slipped out of contention, Schleck was riding right back in to it. Today's result moved him up to second place overall, just 15 seconds on Thomas Voeckler. "I told the team yesterday that I had this in mind," he admitted.
"I said I'd risk it all, and it worked well. It's my character: I'm not afraid to lose. I felt super-good today," he said. "Tomorrow is another day, and I hope to have the yellow jersey.
Schleck left Riis' team at the end of last year on bad terms when he was sent home from the Tour of Spain for breaking the team's internal code of conduct (he was out drinking with Stuart O'Grady until late), so for Riis, watching Schleck move in to contention as Contador slipped out must have been tough.
Despite this he praised his former rider. "That was brilliant," Riis said. "That was some of the best he's ever done. It was brave, very brave, and, ah, crazy, but he made it. That's the beauty of cycling. Chapeau."
Thank you for reading 20 articles this month* Join now for unlimited access
Enjoy your first month for just £1 / $1 / €1
*Read 5 free articles per month without a subscription
Join now for unlimited access
Try first month for just £1 / $1 / €1